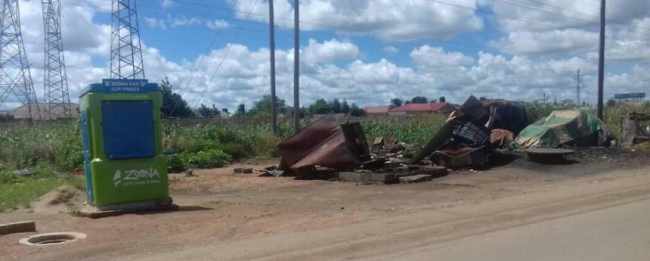 Socialist Party of Zambia (SP) Community Monitor Writes:
Several working class women and men who erected makeshift stalls along Lusaka's Tokyo Way (Ring Road) were a moment ago left in tears when a team of Council police razed down their trading places on account of being illegal.
The Socialist Party was there when the trading stalls along the road in Chalala residential area were brought down by a front-end loader as some teary women hurled unprintables at the excited Lusaka City Council police team.
Some of the stalls and small ironsheet-built shops had merchandise inside but these were destroyed in the process, and one boy suggested that they loot whatever had remained in these destroyed stalls.
However, whereas the makeshift trading places for ordinary Zambians were hastily razed down during the operation, shipping container stalls for Dangote Cement and stalls for Zoona, Airtel and MTN were not touched despite some of them being similar to the ones that had been reduced to rubble.
We wonder in whose class interest, the ongoing cleaning operation in Lusaka City is being carried out.
Nonetheless, The Socialist Party, through its Justice, Equity and Peace (JEP ) program of action, shall provide vanguard leadership for and in the interest of the working class traders such as these along the Ring Road, their peers all over the country, by teaching them how to liberate themselves from the clutches of the Zambian capitalist state and its neoliberal agenda.
If makeshift trading stalls for a Zambian are bringing an unhygienic and unsanitary situation, so does the ones that belong to the capitalist entities of Zoona, Airtel and MTN.