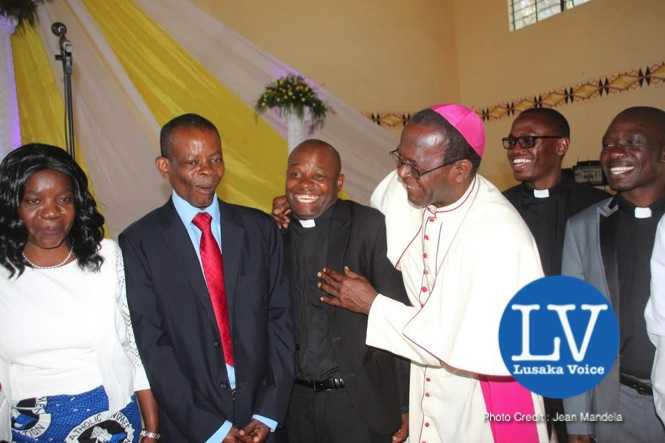 Outgoing Archbishop of Lusaka Telesphore Mpundu has finally come out in the open on his perceived early retirement saying he is not being expelled by the Pope as claimed by some sections of society.
In January, Archbishop Mpundu opted to renounce his position and go for early retirement which sparked public debate that he was expelled by the Pope.
But speaking during last night's Easter Celebrations at Cathedral of the Child Jesus in Lusaka, Archbishop Mpundu said there has been a lot of speculation about his early retirement that he has been forced to retire by the Pope saying that is hearsay.
He says the Holy Father does not even know that he exists for the Pope to ask him to retire early.
He states that there is nothing he has done to deserve a replacement.
Archbishop Mpundu narrated to the congregants that the early retirement has always been his desire since 2003 when he opted to go for an early retirement but that the authorities refused to accept the retirement and instead transferred him from Mpika Diocese to Lusaka in 2004.
He furthermore states that he again attempted to retire in 2014 but that he was not successful once again.
Archbishop Mpundu explains that it was in January this year that his early retirement was accepted and that he is glad he will go to rest.
The former Zambia Conference of Catholic Bishops President says he is not too sure where he will be sent whether he is going back to Mpika or Kasama but that he would love to remain in Lusaka because he has made this place as a home.
Our QTV Staffer Albert Mpezeni monitored the Easter Saturday Mass at Lusaka's Cathedral of the Child Jesus celebrated by Archbishop Mpundu.
The Pope's Representative to Zambian and Malawi, H.E. Julio Murat, has since officially announced that His Holiness Pope Francis has appointed Rt. Rev. Alick Banda, who until now, was Bishop of Ndola Diocese, as the Archbishop of Lusaka.
QFM