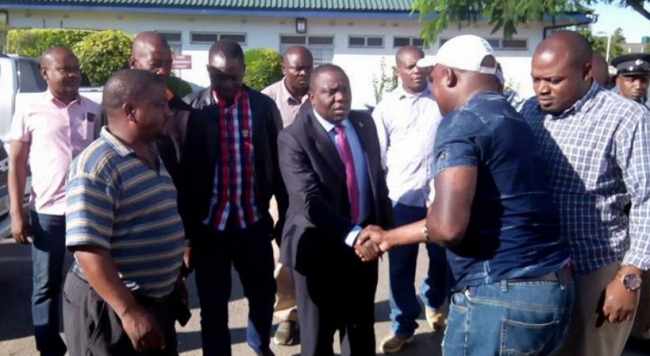 The National Democratic Congress NDC would like to sincerely thank all Zambians for the solidarity messages that have continued pouring in following the arrest of our gallant party consultant Chishimba kambwili.
The NDC is particularly elated that our dear comrades from the opposition Upnd who took time to visit Dr. Kambwili at woodland's police station yesterday.
Upnd leader Comrade Hakainde Hichilima and member's of his National Management team are indeed true brothers and compatriots.
The visit by Comrade Hakainde is a demonstration of true brotherhood and this is how it ought to be.
Both the NDC and UPND are fighting one enemy – the pf.
The NDC also wants to thank comrade Harry Kalaba, the Bahati pf lawmaker and immediate former Foreign Affairs Minister for visiting Dr. Kambwili this morning.
It is unfortunate that the regime of Edgar Lungu has continued to terrorize well meaning political groupings and leader's with impunity.
As opposition political parties, we should not sit and watch this regime tear apart our laws with impunity to perpetuate their stay in office.
The visit by Comrade Hakainde and Kalaba reminds us in the NDC, that unity in diversity is key and that truly, the Zambian opposition is but one big family.
The visit by comrade's Hakainde and Kalaba has raised the spirits of their brother Comrade Kambwili.
These visits have reminded the NDC family that even in the wake of adversity, not all hope is lost.
As NDC, we shall not stop fighting the injustice that our people are passing through no matter how suppressed we shall be.
The struggle we have embarked upon is a long and winding journey, but with Gods hand on our side, together, we shall see and ensure that we prepare a better Zambia for our people.
Issued By: Mwenya Musenge. Secretary General NDC.