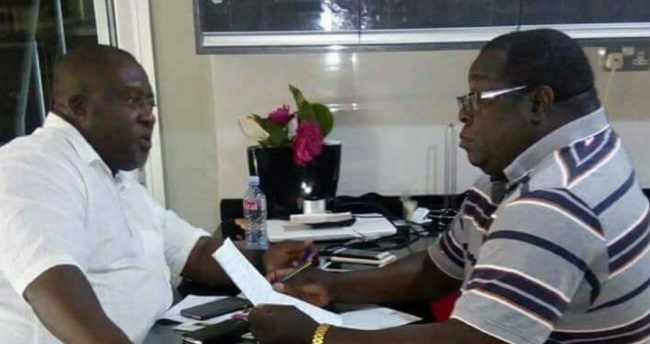 Roan Member of Parliament, Chishimba Kambwili is currently detained at Ndola's Simon Mwansa Kapwepwe International Airport.
The law maker was detained by a combined team of law enforcement officers upon arrival from South Africa.
Dr. Kambwili had been in South Africa for medical treatment.
MUVI TV
======
Meanwhile NDC had earlier written:
For Immediate Release.
NDC consultant in high spirits! Zambia is my number one agenda Dr. Kambwili.
Kitwe. 21.03.2018.
National Democratic Congress NDC consultant Chishimba Kambwili has successfully under gone his scheduled routine medical check up in South Africa.
Dr. Kambwili will in this regard travel back to Zambia soon.
The NDC consultant is in high spirits and is sending his warm greetings to the Zambian people.
Dr. Kambwili is not and has never been incapacitated in any way as may be suggested by some section's of the local media.
Even when the NDC consultant left Zambia on Sunday, he was able to drive himself and left the country unaccompanied.
Dr. Kambwili is in touch with his family and NDC members on a daily basis.
The NDC Central Committee wishes to make it clear that Dr. Kambwili usually under takes his annual routine medical check ups in South Africa.
Members of the public will agree with us that it is healthy for everyone to undergo routine medical check ups so as to keep fit and live healthy.
Therefore, the NDC leadership wishes to dispel assertions in a named Tabloid that suggested that Dr. Kambwili has been unwell for some time now.
The statement is not only malicious but highly misplaced.
The statement is injurious to both Dr. Kambwili, his family and followers.
The statement is a deliberate attempt and ploy to pour scourn on Dr. Kambwili's reputation.
It is an attempt by the pf Government to create a false and imaginary perception so as to dent the image of Dr. Kambwili.
The NDC wishes to announce that Kambwili will thus return to Zambia in due course and continue giving counsel to all NDC functionaries.
Upon his return, Dr. Kambwili will undertake a vigorous tour of five regions of the country to give guidance to NDC Stewart's as part of his concerted effort's to ensure that the NDC continues to grow in strength and numbers.
As NDC we are aware that the pf regime will do everything possible to disparage and malign Dr. Kambwili because it is evident that he is a big threat to this regime.
Equally, the NDC is disappointed that the pf has elected to politicize the normal routine medical check up of Dr. Kambwili.
Regardless of such propaganda, Dr. Kambwili remains resolved to continue speaking out for the people of Zambia.
No amount of deceit nor intimidation will distract our party consultant from pushing forth the agenda of a better Zambia.
Issued by: Mwenya Musenge. General Secretary NDC.