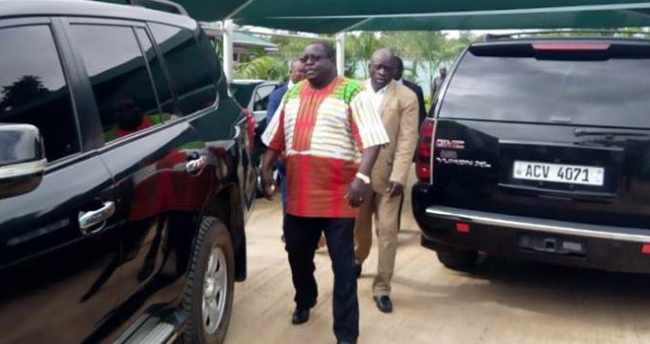 14:03:18
The NDC Consultant, Dr Chishimba Kambwili this morning arrived at the Anti Corruption House at about 09:45hrs in company of his lawyers, party Secretary General, Honourable Mwenya Musenge, Deputy Secretary General, Bridget Hantanga, MCC for Gender, Saboi Imboela, MCC for Tourism, Mr. Kaonga and his Policy Special Advisor MCC Chris Zumani Zimba to mention but a few for interogation.
The interrogation started immediatetly Dr Chishimba Kambwili arrived and it ended around 12:00hrs to which the ACC officials even made Dr Chishimba Kambwili to confirm and sign the interrogation warn and caution statement. The interogations were around Mwamona Enterprise, a company were Dr. Kambwili is not a director. It is alleged that the company forged a ZRA tax certificate few years ago.
By 12:00hrs, the interrogation session came to a succesful end. However, it is regretable to note that ACC officials refused to allow Dr Chishimba Kambwili to leave but confined him for over 3 hours. The ACC officials left him in pretence that they were consulting from higher authorities and did not give any explanation.
Shockingly, the ACC officials refused to release Dr. Kambwili to take his medication and food since he informed them that he was a diabetic patient. Dr Kambwili was sadly confined in the interogation room hungry and unattended to from 12:00hours to 15:30hrs.
Thereafter, Dr Kambwili addressed media houses who had been waiting for him for 6 hours. The NDC Consultant expressed disappointment with the ACC officials who kept him for more than necessary when the interrogation had finished and for denying him to take medication and food as a diabetic patient. He left the ACC building at about 15:45hrs with his officials and lawyers.
Issued by:
NDC Secretary General
MWENYA MUSENGE