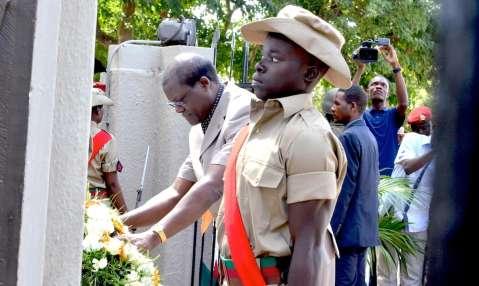 Youths across the country will tomorrow celebrate their day.
As National Democratic Congress NDC, we appeal to youths to turn out in numbers and celebrate this important day.
80 percent of youths in Zambia are jobless and leave under extreme poverty.
As NDC, we are sympathetic to our youths who have for years been sidelined and marginalized.
Unfortunately, our youths are perceived as tools of political violence.
So many pronouncements and promises have been made to our youths by those in authority but nothing tangible has been done to alleviate their challenges.
As NDC, we feel time has come for our youth's to stand up and be counted.
We are concerned that the most productive age group in this country are passing through tough economic times and hardships.
Our youths are usually given handouts and beer during campaigns. In short, our youths have being used and abused by those yielding authority for their own gains.
The pf government seems to have no clear cut agenda for young persons.
Our youths can not access empowerment funds and borrow money from banks purely because they have no capacity.
In situations and instances were such funds for empowerment are available, such funds have only benefited disbursed connected carders from the pf leaving out so many of our young persons.
This is not supposed to be the case.
The disbursement of empowerment funds should cut across political lines.
As youths celebrate their day, we want them to deeply reflect on why they have failed to take up their rightful place in society.
Arguably, a fraction of younger person's have made it in political life and other aspects of industry.
However, the majority of our youths wallow in poverty.
As NDC, we urge youths to redefine their status and relevance in the political sphere's of our country.
Youths can only achieve this if they partner and associate themselves with political grouping's that are ready to offer them a platform.
As NDC, we stand ready to offer this platform that will ensure that youth's are economically liberated.
The NDC in Government will come up with a robust plan of action to empower young persons through the agriculture sector.
NDC will create agro zones in all districts of the country were youths will be availed funds and land to venture into agriculture.
This will be despite creating several job openings through the informal sector.
As a party, we believe that youths in agriculture have the potential to contribute to the country's Gross Domestic Product GDP only if they are given the required support.
The NDC in Government will also ensure that we build the capacity of younger persons by imparting the right skills to youth's through various apprenticeship courses.
It is high time our youths stopped depending on Government for survival.
The NDC in Government will ensure that youths access loans at acceptable interest rates and collateral.
We shall ensure that the Citizens Economic Empowerment Commission CEEC is depoliticized.
The CEEC has become moribund because of political influence.
The NDC in Government will ensure that the CEEC priorities the allocation of loans to all youth's across the country regardless of political inclination.
We shall ensure that agricultural science becomes compulsory in all private and government schools.
As a party, we implore and urge our youths to at all costs refrain from involving themselves in political skirmishes.
We know our counterparts from the pf will use all forms of means to incite and provoke our member's as they mark youth day.
In saying this, we are aware of what happened in Luanshya district last Thursday where the Mayor urged police to eject our member's from participating in the international women's day activities.
Instead of being used as tools of violence, we want youths to take a more pro active role in politics.
Youths should aspire for higher political positions in 2021.
The NDC will thus ensure that we adopt more youths in the 2021 general elections.
As NDC, we believe and confidence in the Zambian youths.
Together, we shall use your vote and voice to stand up, be counted and dislodge this regime.
Issued by: Charles Kabwita. NDC National Youth Chairperson.