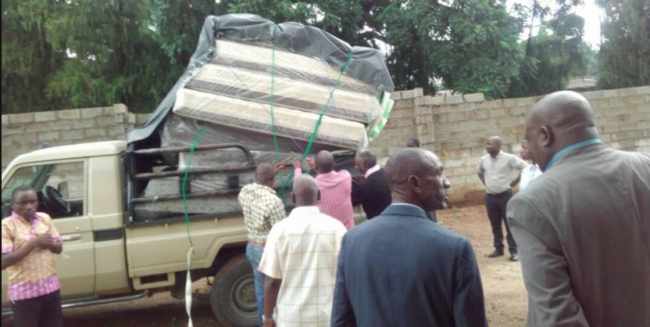 Chipata city Mayor Sinoya Mwale yesterday walked out of a church service at St. Anne's Catholic Church in a silent protest against what he described as turning the pulpit into a political platform.
This happened when the United Party for National Development UPND was donating over 30 thousand kwacha worth of goods to the father's house at Saint Anne's Catholic Church.
Mr. Mwale told Breeze News that the bishop at St. Anne's Catholic Church has made it clear that politicians should not be allowed to issue political statements in church.
He says that any donation to the church should not be made public but private.
Mr. Mwale stated that he found it wrong to be part of activities that were political.
He further indicated that apart from not wanting to be part of the political activities; he also left early because he had to attend another event at Chipata Central Police Station where police officers were commemorating Police Day.
Speaking in church when presenting the donation, UPND Chairperson for Agriculture Food and Water Development Levy Ngoma said that his party aims at fulfilling the promises they make, because they are loyal to the people.
Mr. Ngoma said this was demonstrated by the fulfilling of the promise UPND party president, Hakainde Hichilema, made three weeks ago when he came to Chipata for party card renewal exercise.
He said that a government that has the heart to serve its people should strive to deliver according to the promises made.
The former Sinda Constituency lawmaker attracted some murmuring from some congregants when he stated that promises like putting more money in people's pockets need to be fulfilled.
Breezefm