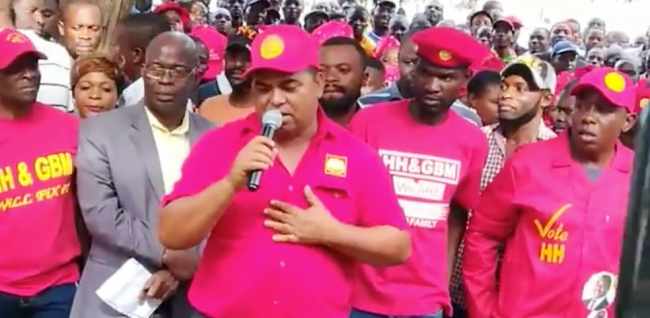 The United Party for National Development (UPND) in Lusaka Province have declared every friday , 'Red Friday', in protest against what they term as a failed government under Edgar Lungu .
Addressing scores of defectors from the Patriotic Front(PF), Lusaka Province Chairman Obvious Mwaliteta called on all UPND members in Lusaka and across the country to wear the party regalia every friday in protest against the failure by the PF to run the country.
Mr Mwaliteta says 'Red Friday' is a special way of protesting against the failure by the PF to uphold the rule of law, continued breach of the constitution by Edgar Lungu , abuse of human rights, retirement of people from particular tribes in national interest,high poverty levels, rampant corruption, failure by Edgar Lungu to manage agriculture, sell of NRDC ,PF intention to sell Chimbokaila Prison , high cost of fuel, failure to open Public Universities ,failure to address the problems facing street vendors , high unemployment levels,failure to pay retirees, among other problems.
"Those without the UPND regalia should be wearing any red attire every friday."Mr Mwaliteta has said.
"Other provinces across the country should also follow tune".
And UPND president Hakainde Hichilema has since supported the move.
"I have endorsed the 'Red Friday' protest by the youths and the leadership of Lusaka Province ".Mr Hichilema added.
Mr Hichilema further challenged the PF government to tell the truth on the sell of NRDC.
The UPND leader also displayed a detailed 'MoU between the Ministry of Agriculture and AVIC International ,Engineering Company for the development of a new NRDC and Financial Centre on NRDC Land'.
See attached 'MoU', in question below….
Mr Hichilema has asked Ministry of Agriculture Permanent Secretary Julius Shawa and Director for Human Resource Monde Gwaba to tell the nation the truth as reflected in the MoU.
"This PF leadership is corrupt, they thought we do not know what we are raising on the sell of NRDC…see this MoU for yourself…" Mr Hichilema has said.
And speaking at the same function, UPND Vice President Dr Geoffrey Bwalya Mwamba warned of serious consequences on those in the PF involved in corruption.
"Ala Lekeni myebe imwe ba PF naiwe ka Edgar Lungu, tampeni ukuyipekanya pantu mukakakwa iyo corruption muletwalilila "(Let me warn the PF and Edgar Lungu against engaging in corruption, because there are consequences for engaging in such acts).Mr Mwamba has said.
UPND MEDIA TEAM