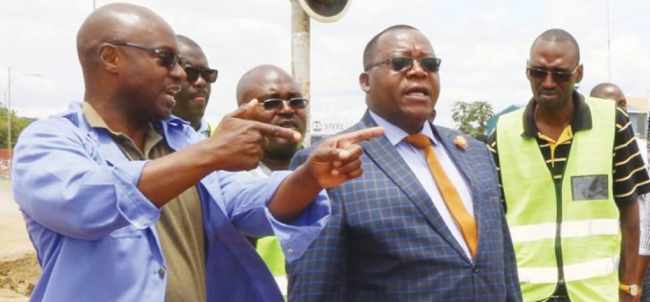 GOVERNMENT is unhappy that some foreign firms awarded major infrastructure contracts seem to unwilling to offer local firms no more than bit parts such as the construction of drainage.
Special Assistant to the President for Project, Implementation and Monitoring Andrew Chellah said on Monday foreign contractors were expected to award at least 20 per cent of their contracts to locals.
Mr Chellah said he was disappointed that where there was a level of compliance to the requirement, it amounted to such basic works as building drainages or other elementary constructions attached to the projects.
He said this was frustrating Government's initiative to empower locals with jobs and the skills they could gain from being involved in such huge projects and appealed to the Road Development Agency (RDA) to look into the matter.
Mr Chellah was speaking on a tour of the on-going construction of the K13 million district hospital in Vubwi, Eastern Province where he expressed satisfaction with the quality and pace of the work being done by Chinese Construction company, Zam-Chin.
Mr Chellah said he was optimistic the hospital would be operational in the next four months.
"I am very, very happy with the way Zam-Chin is constructing the hospital and I think it can be completed as soon as possible so that by June this year, the hospital becomes operational," he said.
He was accompanied on the visit by Chief Analyst Policy Implementation and Monitoring Joseph Mwape Mukupa, Eastern Province RDA Regional Engineer Thomas Zimba and Ng'andu Consulting Resident Engineer, Alfred Banda.
He said Government was committed to completing all projects on time as demonstrated by President Edgar Lungu's decision to set up a ministerial task force to oversee various on-going works across Zambia.
He said projects were being funded and that in six months' time, work at nearly all those that had stalled would resume.
He said he was aware that the construction of the Chipata-Vubwi-Chadiza road by China Jiangxi was behind the schedule with only 25 percent of the first part done the Chinese contractor.
"This project started in 2013 and it was supposed to be completed in 2015 by the contractor but the contractor has been unable to carry on due to lack of funds. The ministerial task force will ensure that such projects are completed because we are behind the schedule," Mr Chellah said.
Mr Chellah called upon the contractor working on the township roads in Vubwi to move on site by March 15th this year.
Apart from touring the Chipata-Vubwi road, he also inspected district administration, post office, a civic centre among other projects.
Source: Times of Zambia