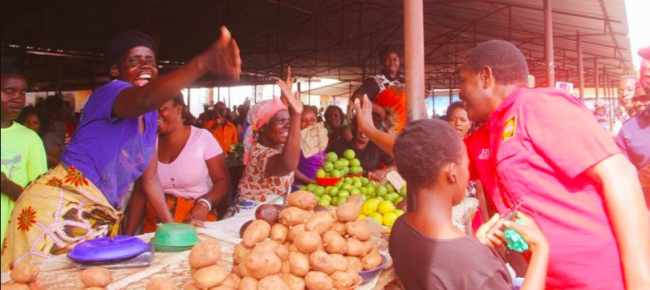 "Edgar lied that Hakainde is Tonga and shall die in prison," said one line of a Ngoni welcome song dedicated to UPND president Hakainde Hichilema by Women of Eastern Province.
The powerful song further says that we have seen HH in flesh and he is here with us contrary to Edgar's lies that HH would die in prison.
The galant women sang, "Tamuona, Tilinaye; a Edgar anama ati Hakainde ndi m'Tonga azafala mundende." (We have seen him, we are with him, Edgar lied that Hakainde is Tonga and shall die in prison).

HH is in Eastern Province for the UPND membership and card renewal excercise Kumawa. He was accompanied by Deputy Secretary-General Patrick Mucheleka, Chairperson for Elections Hon. Garry Nkombo, Mobilization Chairperson Sylvia Masabo, National Youth Chairperson Likando Mufalari, Ambassador Joe Mwale and other senior party officials.
The special rendition of praise for HH and denouncing of Edgar as a liar was sang at the airport in Chipata yesterday and also today at Mpezeni park to welcome and praise HH.
The song has exposed Edgar Lungu as a big liar and desperate for power for wishing his opponent dead.
We are profoundly thankful for the great effort of a team of strong spirited people, which include Agriculture Chairperson Levy Ngoma, Deputy Treasurer General Felix Ngoma, Provincial Chairperson Paul Thole and the entire provincial leadership, general membership and our brothers and sisters who have joined the wonderful UPND family.
UPND