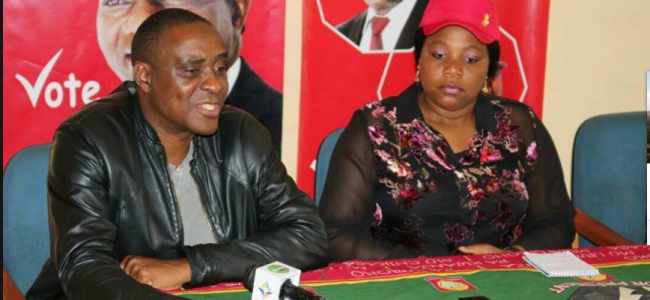 United Party for National Development Member of Parliament for Kembe Constituency Princess Kasune says PF has failed the people of Kembe due to piece meal adminstration of CDF and failure to address problems farmers are faced with.
"Farmers in Kembe Constituency have suffered setbacks due to poor road network, delayed agro inputs and the degrading maize floor price of k60."Hon Kasune has said.
Speaking at a press briefing at the UPND Secretariat this morning, Ms Kasune charged that the high poverty levels triggered by the PF in Kembe constituency are worrying.
She said, many pregnant women have to cover over 80 kilometres to go and deliver at Lutanda clinic and later on Liteta hospital.
Ms Kasune wonders why government has neglected the people of Kembe.
"Unfortunately this cry of farmers is national wide.We demand that government policies are coordinated for the benefit of the people in the rural areas".
"The government policies are not even being implemented.Zambians need what belongs to them.A president has to look at the will of the people nationalwide."
"It is saddening that someone would wake up and say if you did not vote for me there will be no development".
"I am a living example of a lady on ARVs for many years but it is not just a matter of being on ARVs, you need clean water , and healthy meals".Ms Kasune has said.
And speaking at the same briefing, Mbabala Member of Parliament Ephraim Belemu has said government has killed the people of Mbabala due to their failure to release CDF to the constituency.
"That is money meant for the people not the MP, what type of decentralization is the PF government talking about when they are failing to allow constituencies to administer their funds?"
"It is not us who are in charge of funds, it is those in the executive and the citizens are demanding for their money."
"Most of the money going to infrustracture development should have been going to constituencies".
"Besides the current CDF is too low.We should have been talking of about k10milliom CDF if we were serious because the needs of constituencies are high."Hon Belemu has said.
"The idea is to allow people to have power to determine what constitutes a priority for them."
"PF government is busy putting money in areas where the people did not ask them , it is not the people who told them to go and buy fire tenders at USD 42 Million, the people are asking for their money which is CDF.Let them release it."
"Why should we have cholera ? Let us not make cholera as if it is not preventable.The drainages are blocked and there are floods all over."Ms Kasune added.
"When we speak, we aint speaking for ourselves, we are speaking for those who do not have the opportunity to speak out".
"The Social Cash Transfer has been politicized by the PF but that is our money which people should demand for from this government because it is budgeted for.People should realize that government money is their money, that is Taxpayers and not PF money."
"And responding to a question from a journalist who wanted to know how the 50 percent CDF given to Kembe constituency has been used, Ms Kasune said the councillors themselves did the distribution . k700,000 was released and if you divide that by 12 wards you remain with K58,000 per ward and how far can that go? Is that adequate to address the problems societies are faced with? Certainly not.We are saying CDF must be increased so that the people that vote for us can benefit."Ms Kasune has said.
UPND MEDIA TEAM