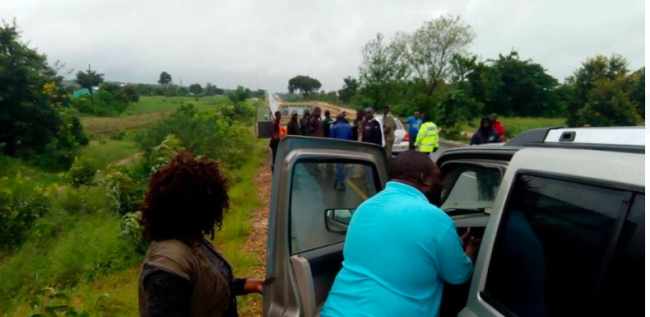 The police and PF cadres today blocked the entry of NDC Secretary General and his entourage into Petauke enroute to Chipata. The police who mounted a road block at the entry of Petauke were accompanied by cadres in a Brown Toyota Land cruiser registration number BAD 3358 believed to be that of Petauke MP Dora Siliya. The cadres who kept saying that 'the boss' had given them orders not to allow the NDC crew charged at the NDC entourage which comprised of the NDC SG, Mwenya Musenga, Members of the Central Committee and the NDC Eastern province committee members.
The police did not ask where the crew was going but told the NDC leadership to follow them to the police. On the way to the police, the cadres insisted that the NDC leaders should leave the province immediately as 'their boss' had given them strict instructions not to allow the team into Eastern province. The NDC leadership was then escorted out of Petauke by heavy police escort with the PF cadres following behind.

NDC SG Mwenya Musenga said that it's a shame that police are getting orders from cadres and that whatever is happening in the country, Edgar Lungu should be held accountable. He said Zambia is a free and democratic country where people should be allowed to mobilise without fear and intimidation. He said NDC will not take the PF on in terms of violence but will use all legal means to fight such abuse of authority. He furthered wondered why other opposition political parties were being allowed to move around and mobilise freely while the NDC was being stopped by the police and PF cadres. The NDC SG said Zambia was not a police state and such intimidation speaks volumes of the fear PF has of NDC.
Member of Central Committee in charge of security, Menyani Zulu, said no one was going to stop NDC from mobilising and forming structures. He warned the PF that primitive politics where long gone and that as a party, NDC will go ahead to form structures in all parts of Eastern province. He said he was born and raised in Petauke and Nyimba and could not be stopped from entering his own birth place and village, respectively. He said unlike some leaders who claimed to come from Eastern province but did not have villages there, his birth place and upbringing are Nyimba and Petauke so had every right to be there. The NDC Security Chief said while the police and PF cadres blocked the NDC leadership, NDC members in Sinda that were waiting for the team were also attacked by PF cadres. He said the violence and beating up of NDC members that was witnessed today in Sinda would not be allowed to ever happen again.
And NDC National Youth Chairman Charles Kabwita said the party was getting worried with the behaviour of the PF and that as a young leader he was concerned that the police who are supposed to protect each and every citizen have been turned into political cadres. He also took a swipe at the PF leadership for using the youth for political violence when they were not even employed. He said Edgar Lungu is scared of people getting into Eastern province because they will know that he does not hail from there but just a imposter. He said people already knew that he had no village in Eastern province and so that should not scare him as his secret is already out. He said as youth Chairman, the NDC youth have been instructed to restrain themselves but with so much provocation the party may be forced to react.