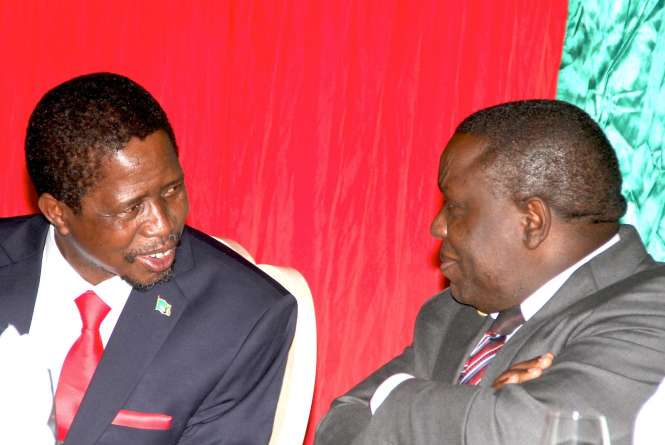 Senior Chief Mushota of the Chishinga speaking people of Luapula province says embattled Bahati PF member of Parliament Harry Kalaba is behaving like that uncultured woman in a matrimonial home who decides to pack her own bags and abandon the family.
The traditional leader who spoke in Bemba disclosed that he has taken necessary measures in safeguarding the reputation of his throne and chiefdom against ridicule and embarrassment at the hands of ungrateful opportunists that repay good with evil.
He disclosed that he was constantly reminded of the words of the ruling party's late founder leader President Michael Chilufya Sata (mhsrip) who promised Kawambwa district that he would work on the road network around Lengwe primary School and that promise had been fulfilled.
He said what distinguishes President Lungu's PF from all previous governments is the ability, demonstrated by the ruling party, of sticking to its developmental programmes as promised way ahead of time.
Senior Chief Mushota revealed that prior to becoming a traditional leader, he was involved in politics as Constituency Chairperson in Kawambwa district during the UNIP and MMD governments and as such, he understood lies and deception similar to the one Kalaba was propagating.
He explained that unlike the PF, UNIP and MMD made promises to only suit a campaign agenda.
He reiterated that the ruling party, under the able leadership of His Excellency President Edgar Chagwa Lungu, was on course and delivering visible development to all parts of the country.
His royal highness thanked President Lungu for entrusting almost the entire Cabinet to Luapula.
He said this from his Chishinga Palace in Kawambwa district on Thursday when the Ministers for Housing and Infrastructure, Hon Ronald Kaoma Chitotela, Community Development and Social Welfare Hon Emerine Kabanshi and Luapula Province, Hon Nickson Chilangwa who were inspecting developmental projects in the district paid a courtesy call on him.
Others in the Minister's entourage were member of the Central Committee (MCC) Chipolo Mwale, Hon. Anthony Kasandwe from Bangweulu and Hon. Ponde Chunga Mecha of Chifunabuli constituency.
Patriotic Front – PF