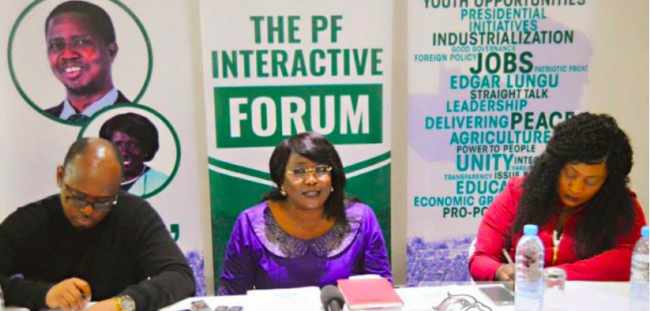 Minister for Community Development and Social Welfare Hon Emerine Kabanshi has dispelled rumours propagated by the opposition political party leaders suggesting that only those affiliated to the ruling party are given priority when shortlisting for social cash transfer beneficiaries.
The Minister was responding to a question from a journalist during today's Patriotic Front (PF) Interactive Forum in Lusaka when he (the journalist) sought clarity on insinuations by certain opposition political party leaders suggesting that only the ruling party cadres are the primary beneficiaries of the social cash transfer.
"That is not true. If there is a party that love and has embraced the poorest of our communities, it is the PF under the able leadership of His Excellency President Edgar Chagwa Lungu. PF members even forget themselves when delivering empowerment and development across the nation.
"And when I go in the field, I get mad because the people who are affiliated to the party would be there telling me that Honourable Minister, this program is very good, it is very nice. But I ask them, how many of you are on this program? They say – 'We are not there.' Then I tell them that how can you be my foot soldiers when you are not part and parcel of the initiative. You are human beings just like every other human being in desperate need of empowerment and you need to benefit from the programs that are being implemented," she said.
Hon Kabanshi advised Civil Servants not to mislead the people in the process of administering services.
"And you know, there are some people, some Civil Servants who tell them that the politicians are not supposed to be part of that! The people in the communities who are members of the party are NOT politicians. They don't have any (government) elective positions. The people who are politicians are me as a Minister, as a member of Parliament and also the Mayors and Councillors. That category of people is not supposed to benefit but for a normal ordinary member of the party, it is important that they also benefit because they are ordinary human beings just like any other.
"And when I go into the communities, when I go in the districts, I tell my officers that I need to see the faces that I know because they also go through the same problems. So we do not discriminate," Hon Kabanshi reiterated.
Meanwhile, PF Media Director Mr Sunday Chanda has challenged the opposition United Party for National Development (UPND) president Hakainde Hichilema not to deceive people in SouthernProvince that the social cash transfer being administered by government was from his pocket.
In 2017, the Ministry of Community Development and Social Welfare increased the number of social cash transfer beneficiaries in Southern Province to over 65, 000.
Mr Chanda stated that the opposition political party leaders have a moral obligation to be sincere in the messages they choose to promote and or entertain.
"….Mr Hichilema has a duty to come out to the Zambian people in Southern Province and tell them whether the social cash transfer money truly come from his Pocket. That will be a very important issue for him to address. This deception can not continue without being addressed. He has a moral obligation to be sincere."
The PF government has scaled up the number of beneficiaries to over 700,000 since 2014. Government has set a target of registering an additional 300,000 to meet a 1,000,000 record beneficiaries within the next 3 years.
#SmartEagles