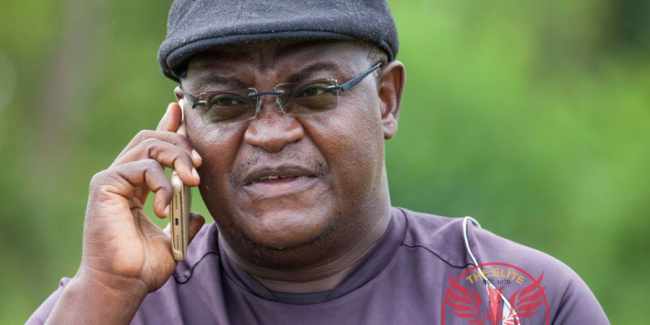 THE once inseparable friendship between Football Association of Zambia (FAZ) Andrew Kamanga and his one-time confidant Simataa Simataa has hit another low.
Kamanga, who has continued to come under attack from his once-upon-a-time supporters over certain decisions, yesterday said the behaviour of Simataa made him realise how wrong he was to nominate him for the position of general secretary.
He added that his executive committee was right to reject Simataa.
"I have now come to realise how wrong I was to have nominated this man for general secretary, and how right I was to heed to the advice of the executive committee to reject him," Kamanga said.
Kamanga regretted that administrators have now resorted to innuendos without any basis instead of channeling their energies towards the development of football in the country and refused to be dragged into the City of Lusaka confusion.
City has been embroiled in a power struggle with the two factions led by Zulu executive committee and City of Lusaka 2000 PLC led by general manager, Simataa.
Recently, the Zulu led executive committee alleged in a WhatsApp group called 'City FC Members' claimed that Kamanga was a member of the club and had paid membership fee amounting to K10, 000 instead of saying that it was his normal contribution to the club.
Apparently, Kamanga said Simataa took advantage of the announcement by the other group and accused him of funding the Zulu faction.
"I wish to take this opportunity to dispel recent reports alleging that I have been funding confusion at City. My contribution to the club's financial growth dates as far back as 1995. I felt a great responsibility as a Zambian, to offer support to a club that has produced great legends and continues to be a source of livelihood for many young people wishing to make a living through football," he said.
The FAZ boss accused Simataa of spreading falsehood that he was sponsoring the City of Lusaka opposing group led by Justin Zulu.
Kamanga said it was indeed a fact that the Zulu led group were courteous enough and reminded him that he needed to meet his sponsorship commitment and he agreed that he would, like in the past help the club.
"When I challenged them to produce evidence; they provided a social media posting," said Kamanga, who wondered how social media postings would be basis of proof for payment.
Simataa was the Kamanga's perceived right-hand man during the campaigns that saw him eventually topple Kalusha Bwalya out of office but the bid by the FAZ president have the former ratified as general secretary failed when the executive members rejected him.
He cited the Mufulira Wanderers supporters fundraising dinner where he was asked to contribute of which he did and wondered if it was funding confusion or breaching any FAZ statutes.
"Even Mr Simataa has been availed advances prior to joining his new employer (Diego) is that also in breach? By the same token I expect him to redeem his advances including guarantees. Will I be in breach to ask for what is legitimately due from him," Kamanga asked.
He added that he will not make any financial contribution to City until their wrangles are resolved.
But Simataa in an interview dared Kamanga to make public his claims that he accused him of funding the City confusion and also wondered whether he made the sentiments as FAZ president or in his personal capacity.
"I want to be helped to understand whether Kamanga issued the statement as FAZ president or  in his personal capacity, if he has not done it as FAZ president then why use official letter for personal matters. I also want to know if the is a club called Simataa group," he said.
"I dare Kamanga to make public communication which shows me making those accusations, if it is someone else that made those accusation he owes me an apology," Simataa said.
Simataa refused to comment on Kamanga's sentiment that he regretted nomination as general secretary saying it was his opinion.
TIMES OF ZAMBIA