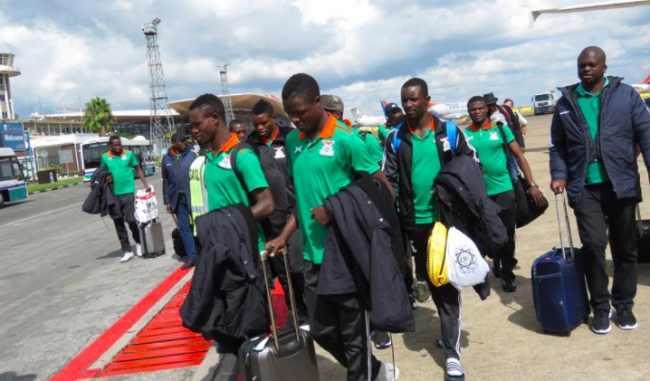 Chipolopolo coach Wedson Nyirenda took out some positives from the 2018 African Nations Championship (CHAN) outing that saw Zambia exit at the quarterfinal stage.
And Ministry of Sports acting deputy director Raphael Mulenga said Zambia was unlucky not to go beyond the quarterfinal stage of the CHAN after falling 1-0 to Sudan.
Nyirenda told Fazfootball.com that the CHAN journey should be seen in its totality having started with qualifiers in July 2017 that saw wins over Swaziland and South Africa to book the ticket to the tournament.
"The most important thing is that we have scored a lot of positives during our journey where we have showcased a lot of talent, a talent which will now become part of the regular Chipolopolo and some have already started playing," he said.
"We have exposed a lot of players. The team itself has become more mature in terms of play. We have a team which will score a lot of victories for the nation."
Nyirenda said the exit was not expected but urged his players to march on as they look forward to future assignments.
"We would like to thank the players for what they have done, we do not want to relent and listen to detractors. We are on the right path and it is up to you (players). In football people will talk if you are a coward it ends there but good stars continue," he said.
"In football just close your ears to unconstructive criticism that is all. You pick the good criticism and build upon it."
The coach thanked the Zambian football family for the support during the tournament.
"We thank the people of Zambia who have rallied behind the team, even when things were not okay at some point but they were there for us. We could fill in the spirit that there were people behind us, we did the best we could but unfortunately the best was not good enough," he said.
Nyirenda heaped praise on the government for having supported the team during the CHAN outing.
And Mulenga urged the team to look ahead at forthcoming engagements among them the Africa Cup of Nations qualifiers.
Zambia's run at the CHAN started with a 3-1 win over Uganda before a 2-0 win over Ivory Coast.
In the final Group match Zambia drew 1-all with Namibia before losing 1-0 to Sudan in the quarterfinals.
It was Zambia's third appearance at the CHAN having ended in third place in 2009 in the inaugural tournament and followed up with a quarterfinal finish in 2016 with an identical round of eight exit in 2018.
Nigeria and Morocco will compete on Sunday in the final of the CHAN with Congo Brazzaville and Libya fighting for third place on Saturday.[ FAZ]