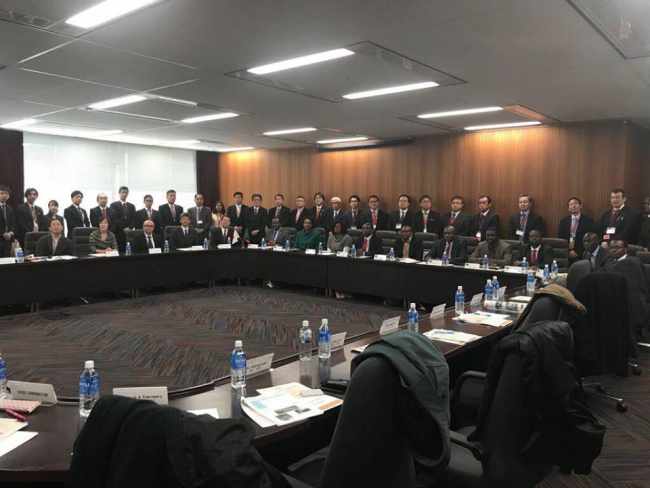 Tokyo, Tuesday, 30 January 2018: – A Fourteen member team of senior government officials is in Japan on a 5 day Quality Infrastructure Development Program.
The delegation which is led by Ministry of Housing and Infrastructure Development Permanent Secretary, Charles Mushota includes Directors and senior officers from various government agencies.
The delegation participated in the Zambia- Japan 2nd Quality Infrastructure Dialogue with over 20 Japanese companies before touring various infrastructure projects and companies to help them appreciate high quality infrastructure systems and facilities in Japan.
Speaking during the dialogue in Tokyo, Japanese Vice Minister of Land, Infrastructure, Transport and Tourism, Koichi Yoshida said Japanese companies are eager to contribute to the stability and prosperity of Zambia through infrastructure development.
Mr. Yoshida said most Japanese companies are interested in contributing to the development and improvement of Zambia's infrastructure while transferring advanced skills and technology to Zambians.
He thanked the Zambian government for its efforts in engaging his government regarding the need for quality and high technologically advanced infrastructure projects in the country.
And Deputy Minister for Construction, Engineering and Real Estate, Yoshiyuki Aoki said Zambia is ranked 10th favorite destination in Africa where Japanese companies are interested in doing business.
Mr. Aoki said most Japanese companies have expressed interest in the energy sector, construction of roads and bridges.
"The Japan-Africa Infrastructure Development Association (JAIDA) boasts of membership of 159 Japanese leading companies that have interest in doing infrastructure business in Africa. JAIDA aims towards infrastructure development in Africa to build and promote relationships with African stakeholders both in public and private sector," He said.
Meanwhile Engineer Mushota expressed confidence that the visit and dialogue will result in high quality infrastructure investment and continued cooperation through sharing of knowledge and experience in order to promote infrastructure development in Zambia.
He said the first Quality Infrastructure Dialogue which took place in Zambia last year saw the signing of several Memoranda of Understanding between the two governments and some Japanese companies to promote infrastructure investment.
"Four study groups have been formed from the first Quality Infrastructure Dialogue namely Urban Transportation, Roads and Bridges, Public Private Partnership and Power and Batteries to carry out research and present progress reports to set the pace," said Engineer Mushota.
And Zambia's Ambassador to Japan, H.E Ndiyoi Mutiti said she appreciates the visit as it will culminate into tangible projects.
Mrs. Mutiti said Japan has a vibrant private sector that has extensive experience and expertise in quality infrastructure, and are eager to engage with Zambia especially on high technical projects.
She said the trip is timely as it shows the two countries' commitment to the spirit of the International Conference on African Development (TICAD) six.
"The underlying core foundation of this event are embedded in the TICAD six where quality infrastructure was priotised and aligned to the pillar on 'Promoting Structural Economic Transformation Through Economic Diversification and Industrialisation," noted Mrs. Mutiti.
Issued by: First Secretary- Press – Embassy of the Republic of Zambia, Tokyo, Japan.