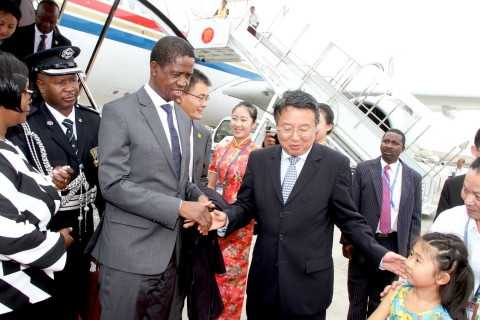 This week, the Chinese and the African Union (AU) dismissed an article that appeared in the French newspaper Le Monde last Friday alleging that Beijing had bugged the AU headquarters in Addis Ababa, Ethiopia. The article, which quoted anonymous sources within the AU, reported that data from computers in the $200 million fully Chinese funded and built building had been steadily transmitted to Chinese servers for five years.
According to the article, microphones hidden in desks and the walls of the facility were detected and removed. Of course, the Chinese Ambassador to the AU, Kuang Weilin described the article as "ridiculous and preposterous" and that it was calculated at putting pressure on the Sino-Africa relations. This incident reminds me of the fierce debate on the building of the new State House that ensued last year, in July to be precise, in which both serving and ex-government officers had a chance to make their case, either for or against the construction of the said structure. I recall several arguments were advanced with the most prominent one being that the construction will be financed through a US$20 million grant from a friendly country.
So, here is my take on this issue again, whether the construction of the new State House will be fully funded and built by a friendly country, I still humbly insist that Zambia ought to be very careful with this sort of gifting especially that the world has witnessed a myriad of incidences of the spy-vs-spy battles, and how powerful and sophisticated states devise more crafty methods to eavesdrop on other states for security, intelligence, trade, scientific and diplomatic purposes. For instance, in 1969, after years of convoluted negotiations, President Nixon's administration signed an agreement with the Soviet Union providing for new embassy facilities in Washington and Moscow. Nonetheless, as at November 14, 1988, the eight-story American chancery in Moscow stood useless, infested with spying systems planted by the Soviet construction workers, making it one of the most shameful failures of US diplomacy and intelligence in decades. Actually, a 1987 US Senate committee described the incident as "the most massive, sophisticated and skillfully executed bugging operation in history" (see New York Times, 1988, November 15).
Arising from this, I hope the backers of the construction of a new State House by a friendly country or simply put foreigners now see the utmost gravity and risk their proposal poses to the security and safety of the country, particularly the Head of State who is expected to occupy such a structure. For years on end, governments globally have traded accusations, denials, complaints and counter-complaints regarding these matters but the truth remains that spy mania will always be here and snooping at foreign diplomatic facilities and strategic installations and institutions is very much considered part of diplomatic life.
Lastly, if sophisticated and technologically savvy countries like the US, Britain, China etc. can suffer from spy paranoia owing to their diplomatic and intelligence past why must a less developed country like Zambia be this overly confident and too trusting in today's world of refined spy mania. Going forward, Zambia must be watchful and thoroughly scrutinize some of these donations before they turn out to be a poisoned chalice.
George M. Chellah