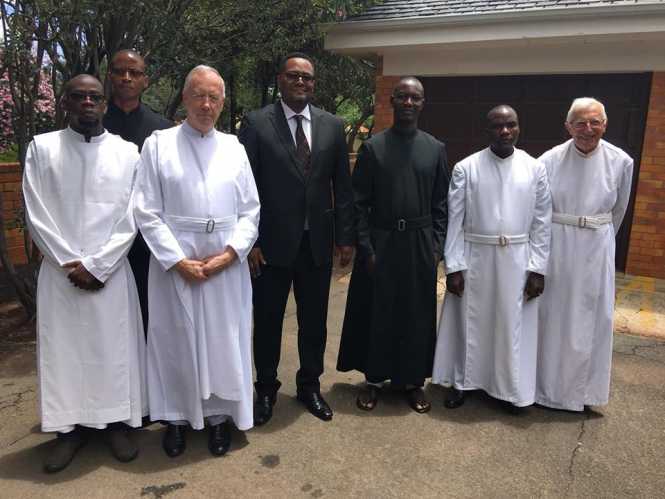 THE CATHOLIC Church in Johannesburg, South Africa, has conducted a vigil mass and memorial service for the late Brother CONSTATINO KAPUNGWE KAUNDA a Zambian national and a Belgian national Brother Antoine Colpaert who died in that country after a fatal road traffic accident.
The memorial service, which was conducted at St. John the Apostle Parish in Florida Johannesburg, was attended by scores of Catholics faithful and presided over by Rev Father Donald Mcloughlin.
Zambia's High Commissioner to South Africa His Excellency Mr. EMMANUEL MWAMBA led a delegation of officials from the High Commission and some Zambians living in that country in paying their last respects to the late Catholic Brothers.
The late KAUNDA will be put to rest on Saturday, 27th January, 2018, at Pax College in Polokwane, Limpompo Province, South Africa .
He was based in South Africa working as the Regional Superior of the Catholic Religious Congregation of the Brothers of Charity for Zambia and South Africa.
Brother Kaunda died in an accident on his way from the OR Tambo international airport on his return from Cameroon where he had gone for mission work.
It is reported that a BMW X 5 vehicle rammed from behind into the car which was carrying the Catholic brothers forcing it to overturn several times for which Brother Kapungwe together with Brother Antoine were thrown out of the car and died on the spot while the other victim died in hospital.
A third victim identified as Brother COURAGE SOKO, another Zambian national and Catholic Brother survived the accident after being rushed to a hospital in Johannesburg, where he has since been discharged.
Mrs. Naomi Nyawali
First Secretary Press and Public Relations.
Zambia's High Commission, South Africa.