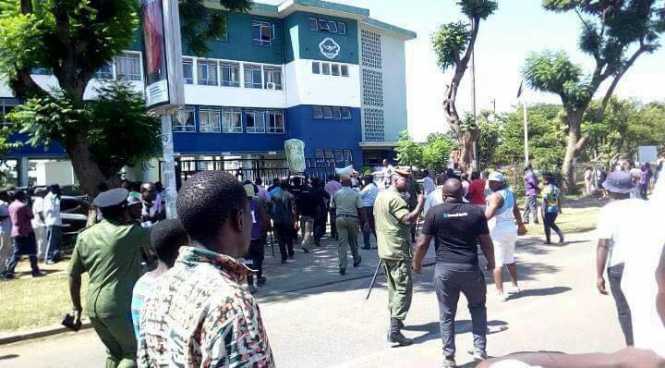 Lusaka, Zambia, 23rd January 2018 – The ruling Patriotic Front has learned with a deep sense of sadness of the clashes involving sympathizers and cadres of the opposition National Democratic Congress(NDC) and the Zambia Police Service.
The information we have gathered is that while Hon Chishimba Kambwili was summoned to appear at Lusaka's Central Police Station alone and perhaps the company of his legal representation but that cadres were ferried along and Police did what they could to disperse the crowd but to no avail.
Later, we learnt that further of clashes between the NDC and alleged members of the ruling Party. We are doing our own investigations into this matter.
To our fellow politicians, we implore demonstration of leadership by heeding to our repeated calls to avoid provocative language and hate speech which breeds unnecessary tension. We must all come of age to embrace mature and issue-based politics. Further, we are making a clarion call for tolerance and co-existence among the different political players.
Lastly we call on the Zambia Police to bring the perpetrators to book. As a Party that tolerates no violence against anyone, we wish to assure the general public that we distance ourselves from any criminal elements that have the tendency of masquerading as PF cadres in their lawlessness behaviour. Those caught will have to face the full wrath of the law.
Issued by:
Sunday Chanda
PF Media Director
Party HEADQUARTERS
ALSO:
23RD JANUARY, 2018 – Police in Lusaka have charged Hon. Chishimba Kambwili with three counts as follows: 1. Forgery which is contrary to section 342, 2. Uttering False documents contrary to section 352 and Giving False Information to a public officer contrary to section 125 of the Penal Code, Chapter 87 of the Laws of Zambia.
He will appear in Court soon.
As Police, we wish to state that the summoning of Hon. Kambwili has nothing to do with politics as he insinuated when he addressed the media yesterday but that this is purely a criminal matter.
ESTHER MWAATA KATONGO