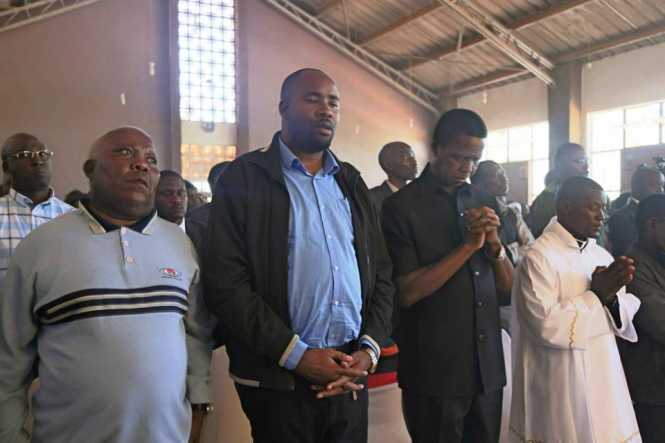 "WE WILL MAKE GOOD OF EVERY PROMISE WE MADE DURING THE ELECTIONS OF DELIVERING DEVELOPMENT TO ALL PARTS OF THIS COUNTRY" – PRESIDENT LUNGU.
Chinsali. Sun . Jan 21. 2018
"That is why am here as your Captain. To ensure that the work we promised to deliver to you is being done."
President Lungu has assured the People of Chinsali that his Government will take development to all parts of the Country.
He stated that he would leave no stone unturned in ensuring that all the promises his Party the PF made during the elections were fuilfilled to the latter.
"Am saying this not to impress anybody. This is what we promised the People . Twatile ngamwa tu votela ifwe, we will transform your lives. Ifintu fikanguka Thats why am even here. Echo nkonkele kuno as Capitao. To ensure Imilimo twa milaile ilebombwa." He said.
" Already, Ive seen the Munansolo/Chinsali Road is very poor. There is a Contractor. But I will find out why work has been slow. And we will expedite this work so that palya tukabwela mu 2021, Tukalasonta ati umusebo tefyo wali ifi." He added.
And President Lungu also promised to look into the challenges of electricity that the area was facing.

" Ive seen ba Rural Electrification Authority 'REA' balebomba. In June when I come here, because I will be coming, I want to make sure that ama light nabasha. " He said.
He made a promise to sort out the issues of the E Voucher stating that he wanted to find out exactly where the challenge was.
" This system is new. From what I can see, Ubwafya epobuli. Lelo twalabombelapo pakweba ati ubwafya bwikabapo futi next year." He said.
" Elo Kuli nabambi abalefwaya ati E Voucher ichita succeed pantu balelilapo kuli conventional system twakwete. Ukwiba kwali fulile. Baleiba umufundo ne mbeu baleiba. Nomba iyi system tuleteleko ukwiba kwalapwa." He added.
The President emphasised that those that wanted to continue stealing where the ones wishing the E Voucher system doom.

"What am saying for those of you that are alien to the Bemba Language is that, the E Voucher system has had its challenges. These Challenges are being caused by a number of factors. Some of them are because obviously its a new system. The other challenge is that there was a lot of fraud and theft in the previous system where people used to have ghost farmers to enrich themselves in the process. But we have done away with this and done a huge saving. Going foward, we will make sure that all those loopholes and lapses which we have discovered are sealed so that the system works effectively beginning next year."He said
" Tawalefika umufundo ku bantu. Balipangile utuma cooperatives eko balesenda umufundo nokulashitisha ku Tanzania na ku Malawi. Chinochaka twalabombelapo. Pakweba ati fyonse fikamifikile munshita iyi suma pakweba ati ubulimi buye pantanshi." He added.
The President was speaking during Mass at St. Johns Catholic Parish in Chinsali this morning.
PF
Smarteagles