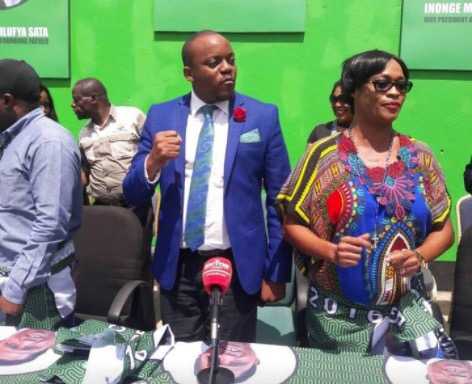 ALTERNATIVE PARTY POLITICS IN ZAMBIA: THE CASE OF ANTONIO MWANZA DEFECTING TO PF
After my quality Shabbat rest in the Presence of the LORD, I have been preparing to write part 2 of my article entitled "CELEBRATING CELEBRITY THIEVES IN ZAMBIA'S NATIONAL LEADERSHIP: MY LETTER TO ZAMBIAN YOUTH", but the social media commentaries on the defection, from FDD to PF, of Mr. Antonio Mwanza have attracted my attention.
Nearly all social media platforms condemn him for his personal decision and democratic right. Some have lamented the fact that he became a voice for the voiceless.
It is beyond the scope of this little note to comment on his decision in the context of the infamous "politics of the belly", after all politics is politics (the art of science of government) and can never ever be called another name. A lot of what we see in Zambia on both sides of the divide, is not politics – it's simply opportunism for personal goals and petty ambition! Part 2 of my article will deal with the genesis of this in greater detail. In Zambia, all you need to do is to learn to be a talker as a qualification to be called "politician" – this is very sad! In some countries like Italy, one needs to have a degree in political science to stand for parliament.
Since a lot has been said about the democratic right of Mr Mwanza, which I fully respect, I will comment on the role of the people of Zambia in this regard.
Apparently, Mr. Mwanza sacrificed his time and resources to come and give the UPP moral support during a news conference, which landed me in prison for 7 days 7 nights. After the conference, I got a tip-off that police were on the way to arrest me and so I asked Mr. Mwanza to drive me away from the secretariat. I abandoned my car.
While on the way, I noticed that his fuel gauge was on "empty" and the red light was on. Thank God I had money in my bank account and I had my card. We drove to the nearest ATM to get some cash and shared it for fuel. I jumped on a taxi as my security team trailed behind in another car. The mention of his car being on "red" should not be taken as an attempt on my part to be malicious because mine too is on red today!
A few weeks later, he was reprimanded by the National Assembly for his remarks on the perks of MPs. I called him to encourage him to be strong and that if UPP had resources, we would have joined the case to seek judicial review on account that the matter was of public interest – he spoke for Zambians and not himself.
The biggest problem Zambia must deal with is the national mindset and this does not start with thieves and eaters under the banner of politics, but the citizens themselves.
How many Zambians contributed to the struggles of Mr. Antonio Mwanza? How many paid him a visit when he was in trouble? How many gave him money for fuel to help with the struggle? How many cared about his safety? How many Zambians peacefully demonstrated when he was unfairly reprimanded by the useless National Assembly?
I, for one, was thrown in prison and there are many cases of public interest over which UPP has been taken to court. These are cases of corruption and serious crimes against the Zambian public, but no one is contributing towards the huge legal bills. All the burdens fall on the lead crusader and one or two friends.
I left prison unwell, but I am enchanted that I serve a Living God who is the healer and restorer of fortunes. How many came to see me in prison? How many came to take me to hospital? When troubles come, it remains for the families and close friends to sort out all the issues – all others go into their chambers to enjoy.
These are the questions that we need to ask ourselves whenever we see noble men and women (and not thieves who are regrouping for wrong reasons) fearlessly speaking for us. We must all contribute and take full ownership of national struggles.
The culture of joining political parties for monetary gains must stop. The first thing that most professional defectors present, are personal budgets. Others ask the question, "who is funding UPP" instead of "I believe in your cause and ideology, how can I contribute?". This is the mindset that some of us (not to necessarily claim to be holier than thou) had when we joined the PF in its infancy – we didn't run away when Mr. Michael Sata was in trouble. I signed his police bond as one of the working sureties when he (Sata) was arrested over altering a false document.
In a struggle for a national cause, all the citizens have a moral obligation to contribute. In the absence of this, no one has the right to toothlessly criticise the person you never helped.
To veer off a bit, Dr. Fred M'membe of the Post Newspaper (in fraudulent liquidation) used to expose a lot of corruption scandals before they happened. In face of a useless ACC, the Post acted as the force for public good.
To my dismay, we all went mute when the state brutally manhandled M'membe and his wife Mutinta. We did not contribute to the struggle – it became M'membe's family struggle. Compare with Malawi, where the biggest private media (Times Group) is defended tooth and nail by the people of Malawi, NGOs and the Church whenever the state extends its corrupt fingers to it.
I have personally rubbished all the comments against Mr. Antonio Mwanza. It is his democratic right and I personally wish him well! We shall meet in the national debates as Zambians.
A season of conscience examination for every Zambian citizen has come – we must begin to ask ourselves the right question, "What can I give to, rather than get from Zambia?". I fear for the worst case scenario in Zambia, but I want to maintain my faith in the birthing, under God, of a prosperous corruption free New Zambia in which all citizens live together in peace and unity irrespective of tribe or race.
God bless Zambia!
Saviour Chishimba
UPP LEADER