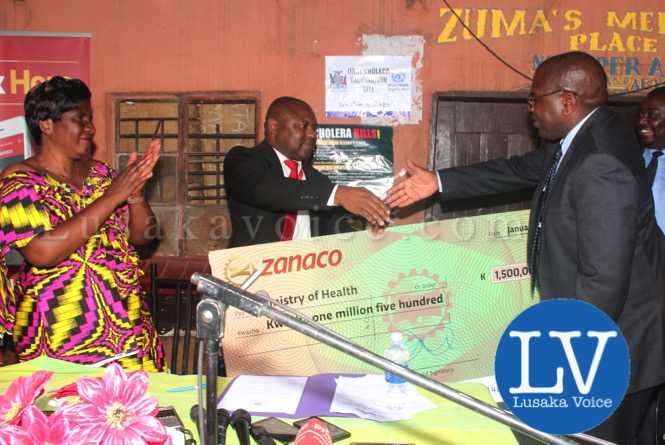 LUSAKA, JANUARY 10, 2018 – ZANACO has donated K1.5 million to help the Ministry of Health intensify the fight against cholera.
ZANACO Head of Retail Banking Simon Chuma made the donation on behalf of Managing Director Henk Mulder to the Minister of Health Dr Chitalu Chilufya yesterday at the occasion of flagging off of the vaccination exercise against cholera.
In a speech read on his behalf by Mr Chuma, Mr Mulder said the donation was being made in line with the bank's aspirations to support the communities in which it operates.
"We strongly believe that the fight against cholera can only be effective when it takes a multi sectorial response approach," he said.
"One of our CSR focus areas is that of the provision of clean water and sanitation. We believe that in order for us to make a meaningful and lasting contribution, we should tackle the root cause of the epidemic. It is for this reason that we are donating k1, 500,000 which will go towards the purchase of 130 x 10,000 litre water tanks."
Mr Mulder said controlling the disease and its effects was a very expensive venture, which the government could not do singlehandedly.
Mr Mulder called upon all people to exercise responsibility and prevent incidences of cholera in homes and workplaces.
Zanaco has acted proactively by implementing measures such as dissemination of hygiene information and workplace cholera prevention guides for all employees as well as creating an Incident Preparedness Plan for all 68 branches across the country.
Other measures instituted within the bank include installing hand sanitizers at all branches.