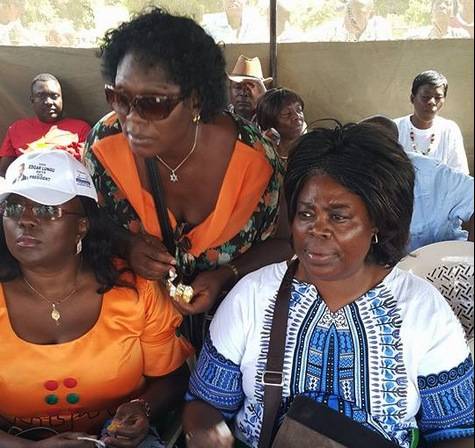 By Nation Reporter
The move seems to have been aimed at intimidating the owner of the farm Webster Mhango.
This comes barely four days after the Ministry of Lands asked the warring factions to give authorities time to look into the matter.
An ownership battle is raging between Mr. Mhango, who bought the twin farm from David Simpson in 1980 and Ketty Mwale who claims she had settled there long before Mr. Thompson allegedly bought the other piece of land.
Mr Mhango also claims he was issued with title to the land by the Ministry of Lands and was in possession of the original map of the area.
This week, Ms Kapata went to the farm and asked the two factions to give the ministry time to look into the documents to ascertain the rightful owner of the farm.
Mr. Mhango told her a group of about 15 people led by Mwembeshi PF ward chairlady Josephine Phiri Tembo went to his farm as early as 07:00hrs in a minibus and went about inspecting his land.
Daily Nation found that the group had already left.
"Ms. Tembo and Ms. Mwale brought about 15 people and they started allocating each other portions of land in plot No. 28 which Ms. Mwale is claiming is hers.
"We did not want to confront them because as far as we are concerned, we are waiting for the ministry to call us so that we sort this issue out amicably. They were only here for about 30 minutes and then left," Mr. Mhango said.
He said Ms. Tembo and Ms. Mwale had provoked his family but said he would not be intimidated by anyone because he spent lots of money to buy the twin farm and would rather die fighting for his land than watching people who never laboured for it grab it from him with impunity.
"We have been too lenient to Ms. Mwale by allowing her to stay on our farm for all these years. She has now ganged up with Ms. Tembo and a few other people who are using the ruling PF to displace us but this will never happen.
"If it means dying, I will die here because of this piece of land. No one will take it away from me. I sweated for it alone and those who are buying are just wasting their money.
"Cadres have caused a lot of mayhem in their area where they have gone on rampage grabbing any idle piece of land and they have gone away just like that under the disguise that some people in Government have sent them.
"Where have you found people who do not have any title to land claiming ownership? I have all the documents that the ministry needs and I will not tolerate any manoeuvres because I did not buy that land for other people to benefit," he said.
Efforts to get a comment from Ms. Mwale proved futile as she was not at her house at the time the Daily Nation went there while Ministry of Lands public relations officer, Diniwe Zulu, said the ministry had not received the report about the invasion.
DAILY NATION