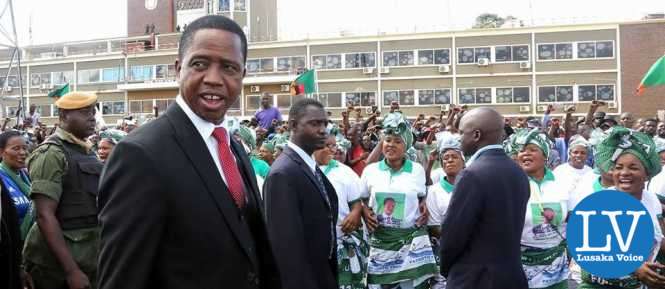 NOTICE TO THE ONLINE COMMUNITY.
There is a statement circulating on social media suggesting that President Lungu has made changes to his Cabinet.
Kindly be informed that the said list is false .
When you come across the said list, kindly treat it with the contempt it deserves.
PF
BELOW ARE THE DETAILS OF THE FAKE PRESS RELEASE:
*BREAKING NEWS*
PRESIDENT LUNGU ORDERS CHANGES
Nyimba, (Wednesday, 3th December, 2018)
President Lungu has made the following changes, and the reshuffles are with immediate effect.
President Lungu has instructed Secretary to Cabinet Dr. Roland Msiska, to make the necessarily adjustments and arrangements in accordance with the changes.
At State House President Lungu has replaced State House Political and Economic Advisors with Kelvin Fube and Highvie Hamududu respectively. He has also appointed Mr Bonny Kapeso as new Inspector General of Police, with Mr Kakoma Kanganja being sent to head the Ethiopian Mission in Addis.
-President Lungu has retained the Ministry of Agriculture to himself as Cabinet Minister
-Hon. Vincent Mwale becomes Foreign Affairs Minister
– Hon. Jean Kapata becomes new Gender Minister
– Hon. Rosaria Fundanga new minister of Higher Education
-Hon. Freedom Sikazwe becomes Minister of Labour
-Nominated MP Christopher Mvunga becomes new Presidential Affairs Minister
-Charles Banda becomes new Eastern Province Minister
-Dr Jonas Chanda becomes new Minister of Tourism
-Mulenga Kampamba becomes new Water Devt, Environment & Sanitation
-Nominated MP Rapheal Nakachinda becomes new Broadcasting Minister
-Hon. Given Lubinda becomes Minister of Minister of National Development and Planning
-Hon. Makebi Zulu becomes new Minister Of Justice
-Nominated MP Frank Bwalya becomes new Minister for Religious Affairs
-Hon. Ronald Chitotela becomes new Minister Of Local Govt
-Hon. Doreen Mwape becomes new Minister of Lands
-Hon. Joe Malanji becomes new Minister Of Infrastructure and Housing
Apart from addressing some administrative changes, the President is yet expected to later in the day announce changes to the Party Central Committee in his capacity as Patriotic Front Party President. The changes include the relieving of Mr Samuel Mukupa from  Chairmanship of the ruling Party in the interest of unifying the party and in preparation for the forthcoming proposed party indaba.
The moved individuals should double up their efforts and make considerable improvements in their work ethics, productivity and ensure strict performance monitoring for the benefit of the Zambian people.
Issued by:
               AMOS CHANDA
SPECIAL ASSISTANT TO THE PRESIDENT
               (PRESS AND PUBLIC RELATIONS)
       STATE HOUSE