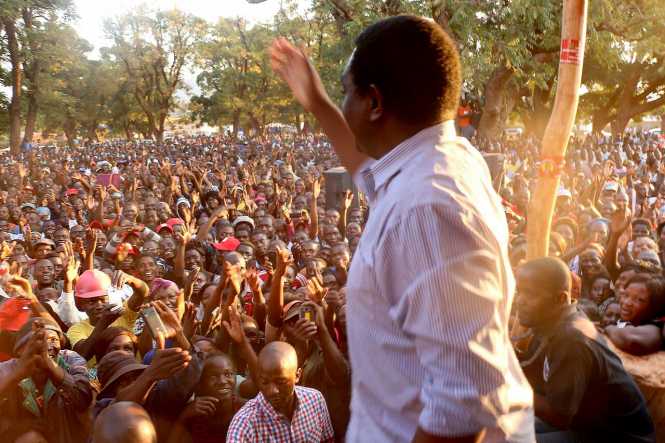 SOURCE : PF facebook page
We can not risk our lives for his foolishness
======================================
UPND LEADERS and supporters have refused to 'shed blood' for incarcerated UPND leader Hakainde Hichilema.
Despite many calls from their main propaganda communication medium Zambian Watchdog to gather up and foster public riots demanding the release of Hichilema UPND leaders, supporters and Zambians in general have pushed a deaf ear to this cause.
Most Zambians including his supporters hailing from his strongholds have described the action of Hichilema blocking the Presidential motorcade as 'foolish and unbecoming and refused to take part in any riotous behaviour demanding for the release of Hichilema.
Some of the comments written by UPND sympathisers on social media platforms following a statement on UPND'S Zambian Watchdog asking people to gather at UPND SECRETARIATE then proceed to riot for their leader till death read:
"Hmm Jesus died for me already I can't die for any one enhe he naka long weekend aka kamene kabwela boi, I have a family and I love my family."
"The only problem is that people who usually incite for such are never present and just end up putting other people in problems.People thinking of attending such must think twice."
"Wow based on logistics I cn never live my House to go and throw stones like a mad person I love my life go we will be waiting to drink mukoyo pamalilo yanu,(funeral)"
"In as much as I do nt support wat the government has done nd a proud UPND supporter..sorry I love myself too much and have a bright future ahead,+ babies to give life too… to die young"
"Now the funny part is,if u guys rily want 2strt a riot,demonstration protest wats so ever…
Do u hv 2announce…lol
All foolish cadres will b beaten..ask Gary Nkombo how police beating feels like….
Smh..
Just sit n let the lawyers fight for u.."
"Christ died for me already am no ready to die for another man's sins No no no the best people are Nkombo,Malita,Nalumango,jack ,GBV,Cornelius and yourself."
These are some of the few messages pasted on Facebook among the many hundreds.
The response to the call then angered the editors who have now gone on to castigate UPND leaders and Members of Parliament for not rioting for their leader.
"……HH must be very disappointed….Who doesn't know that the aim is just to keep HH is prison?
But where is the UPND?" The Zambian Watchdog lamented.
The UPND Social Tabloid then went into outrage and wrote;
"Where are the UPND Mps in all this? Is it only Hon Nkombo and Hon Mwiimbu? What is going on in UPND? Have UPND leadership turned their back on HH? Why can't the MPS hold a peaceful March to police Hq and state house to demand release of HH? Then people will follow. After all HH has done for these people they can't even be there for him in such difficult times. So painful and shameful the useless leadership in UPND."
Meanwhile a UPND leader has revealed that even his Vice President Geoffrey Bwalya Mwamba has refused to organise riots to call for Hichilema's release.
"I did not attend the meeting but GBM asked everyone to just let the lawyers handle everything," the source said.
"I spoke with a few friends but it seems the big man will just have to flex his monetary power pantu no one in the leadership is spearheading an uprising."
PF