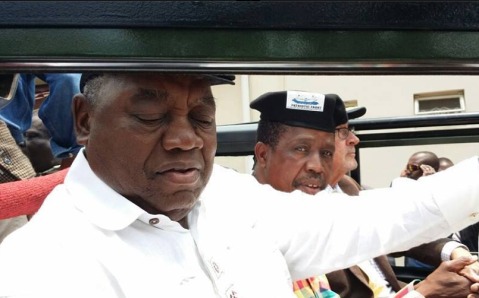 MMD Youths in Lusaka have castigated opposition UPND president for his continued attacks on former Republican President Rupiah Banda.
 In a statement issued by the MMD media team Prince Ndoyi who is a youth in the party said the youths in the Party are shocked and disappointed that a person aspiring to lead the nation has continued to orchestrate insults against the man who occupied the very office he wishes to occupy.
He said Mr Hichilema should be contributing to rebuilding the nation after the divisions of the last general elections as opposed to issuing derogatory statements against the former Head Of State thereby opening more wounds.
He said it is such behavior by leaders that continues to make young people fight as powerful individuals continue to incite their followers while others try to defend their leaders.
He said the UPND leader should know that the MMD is aware of the fact that prior to the 2015 elections him and his UPND were lobbying for the endorsement of the former president and that his vengeful behavior was bad for the country.
"HH is bitter with the loss of 11th August and that's why he can't come to terms with reality that the MMD under the leadership of Hon. Felix Mutati and Mr Rupiah Banda's endorsements were the most valuable and priceless endorsement any politician worth his sort was supposed to fight for. HH and his UPND must not blame individuals like Mr Rupiah Banda for their loss, it's neither RB nor MMD that blocked HH from entering State House but it's ultimately the Zambian people," he said.
Mr Ndoyi further said Mr Hichilema appears not to know who to attack or surround himself with for him to convince Zambians that he is the right person to occupy plot 1.
"HH appears not to know who to attack and who not to attack, its no wonder he loses elections, it's quite surprising that even after losing twice against President Edgar LUNGU who was heavily endorsed by the same person he despises, he does not realise the many people he injures when he attacks Mr Rupiah Banda and his family. Let him remove his hate and bitterness and begin to respect those that have served in the office he aspires to occupy.
"It beats logic that HH expects to win elections when he continues to insult the same people that possess and carry a winning image and brand. Mr Rupiah Banda is totally no match for HH and it's the more reason he must concentrate on his peers.
"HH and his party are still learning politics and it's no wonder they can't differentiate between politicians who can win them elections, rather those who only want to use them against those who can add value, that's why instead of striving to gain the support of the former Republican President he gathered and surrounded himself with a bunch of proven losers and betrayers who ditched their party PF that made them who they are today, the likes of Guy Scott, GBM, Miles Sampa, Obvious Mwaliteta etc. He gathered valueless politicians and celebrated their endorsements without critically seeing what value he could gain for his political campaigns," he said.
He also said Mr Hichilema was injuring the country's international relations with his continued wild outbursts.
"Zambia enjoys sound relations with other nations and he must appreciate this rich history and our unique position on the globe and continent, because he will not lead Zambia in isolation if he became President. He must embrace wisdom by staying and acting carefully because in less than a fortnight he has issued two degrading and careless statements about countries that enjoy unique mutually cordial relations with our country. We don't see how HH and his UPND will stand to benefit if and as at when our country develops hostile relationships with the Democratic Republic of Congo and Morocco, instead he should know that he will stand to blame if his utterances plunge us into chaos. HH must coordinate his actions and behavior both locally or internationally."