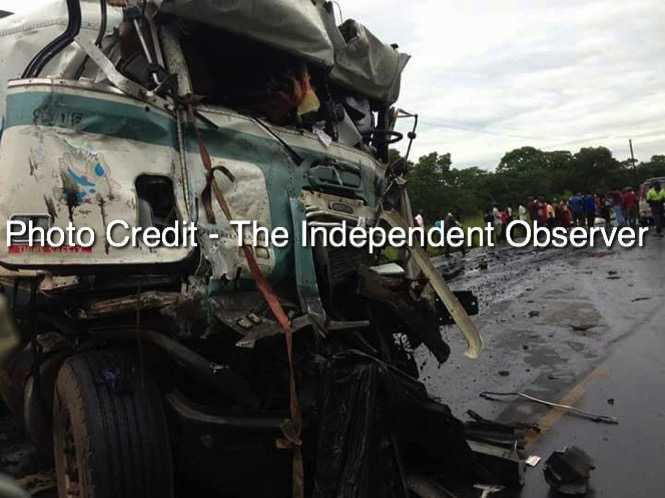 8TH FEBRUARY, 2017 – The condition of Luyando Munkasu, the Mazhandu bus accident survivor who was evacuated to Netcare Sunninghill Hospital in South Africa on Friday has improved and the patient will be operated on in the next few days.
14 year-old Luyando, who lost her mother and sister in the accident, sustained a deep cut on the front part and injuries to the left side of her heard.
Luyando's father, Mr. Fantansy Munkasu has said that the swelling of the head had reduced and that doctors had indicated that they could operate on his daughter by the end of this week.
"We are happy that there has been a lot of improvement from the time she was brought in. She was barely conscious with a lot of swelling to her head but now we are even able to talk to her and she is responding. Doctors have told us that they can even operate on her by the end of this week," a low-spirited and calm Mr. Munkasu said.
He pointed out that Luyando had gained good levels of consciousness and had since asked about her mother and the sister. "We have had to keep all that from her and as things stand, she doesn't know anything about her mother and the sister."
Meanwhile, the family has thanked Government for evacuating their relative to South Africa for specialised treatment.
Mr. Munkasu has said that the family was grateful that Government had seen it fit to consider their relatives for treatment from a specialised health facility outside the country.
"We are extremely grateful to President Lungu and his government for this gesture. Our daughter was in a very bad condition while in Zambia and we can only thank our President and his government that the situation is now much better."
Mr. Munkasu was speaking when Zambia's Deputy High Commissioner to South Africa, Ms. Philomena Kachesa and Mrs. Monde Mwamba, wife of Zambia's High Commissioner to South Africa, His Excellency Mr. Emmanuel Mwamba, visited Luyando at the hospital yesterday.
Ms. Kachesa said government was pleased to hear that Luyando was recovering and that she was getting ready for the operation while Mrs. Mwamba led in praying for the patient asking God to take charge of the situation.
10 people died in the early hours of 31st January, 2016 when a Mazhandu Family Bus collided with a truck on the Great North Road. The accident happened at Luanshiba area between Kabwe and Kapiri-Mposhi districts.