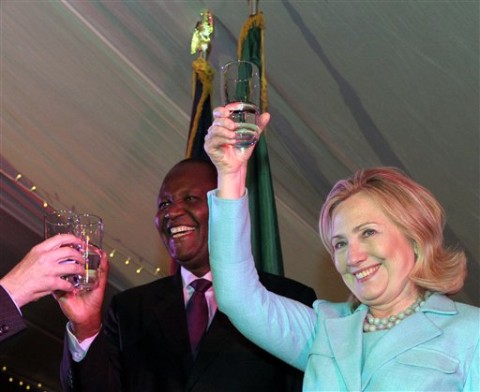 Zambia's Minister of Finance Felix Mutati has lured the support of the French government and business community for investments in agro-processing, scaling-up solar, and construction of mini and mega hydro power stations.
And *French Minister of Finance Michel Sapin has said Zambia is on the right path* in her economic recovery and stabilisation programme.
"You have taken hard and well-thought out action points that are not only home grown, but also founded on sound economic management," this is an incredible vision, said Mr. Sapin.
In commending Africa's second largest copper producer, Mr. Sarpin also pledged the greater support of France to Zambia once all the processes leading up to a programme with the IMF are exhausted.
Mr. Mutati affirmed the Zambian government's resolve to take tough decisions in order to restore prudent economic management, strengthen transparency, consolidate accountability, ensure policy consistency, and facilitate enabling legislation not only for the economic recovery and stabilisation programme, but also for existing and new investments. The Zambian Minister said this to his counterpart when the two leaders met at the French Ministry of Finance, in Paris, France.
Mr. Mutati has also assured the French government that Zambia is seriously committed to eradication of corruption in the public sector, and that, action is on course to review procurement laws and regulations, including the establishment of a price band mechanism which is aimed at eliminating illegal concessions and kick-backs in the process procuring public goods and services because of over pricing of supplies and services to the public sector.
The other issues discussed in detail by Mr. Mutati with the French Ministry of Finance include Zambia's economic recovery and stabilisation programme, the macro-economic environment, climate change, and the Batoka Gorge Hydro Power Project.
Meanwhile, Mr. Mutati has invited the French Business Community to invest in Zambia's energy, infrastructure, transport and logistics, agro-processing, and financial services.
"We want to move together with the private sector in facilitating investment, establishing top-class industries, generating employment, and creating wealth," said Mr. Mutati.
And the French Agro Group, Adepta, has said a delegation of investors will be visiting Zambia in April 2017 to explore the agriculture opportunities marketed by President Edgar Chagwa Lungu during his visit to France in 2016. Some of the organisations represented at the Breakfast Forum jointly organised by the Zambian government and MEDEF in Paris were; French Ministry of Foreign Affairs, Airbus Group, BNP Paribas, Bureau Veritas, EDF [Energy], Societe Generalle, Total, Mattierre SAS, One Five, Lazard Frerres, Adepta Agro, BPI-France, Nutri-fix, and Conception Enterprise etc.
Earlier, Zambia's Deputy Ambassador to France Joe Kaunda said French tour operators have taken keen interest in exploring Zambian tourist products and services because of the significant peace that the country enjoys and the friendliness of her people. Mr. Kaunda said this when he welcomed Mr. Mutati to the Zambian Embassy in Paris, France.
And Professor Fackson Banda has said Zambia should approach bilateral and multilateral relations with an open heart, adding that, the PF should continue with the economic recovery and stabilisation program as it represents the larger vision of the country.
Professor Banda, who is based at UNICEF in Paris, was speaking when he tendered a vote of thanks on behalf of other Zambia's, following a meal organised by the community in honour of Zambia's Minister of Finance.
While in France, Mr. Mutati also had meetings and interactions with Paris Club President Mr. Guillaume Chabert, Agence France De Developemment [AFD] Director, Laurence Breton, Zambia's living in France.
Mr. Mutati has since left France for Germany where he is expected to have meetings with the Ministry of Finance and Germany Development Agencies, GIZ and KFW.
 Media & Public Relations – Ministry of Finance