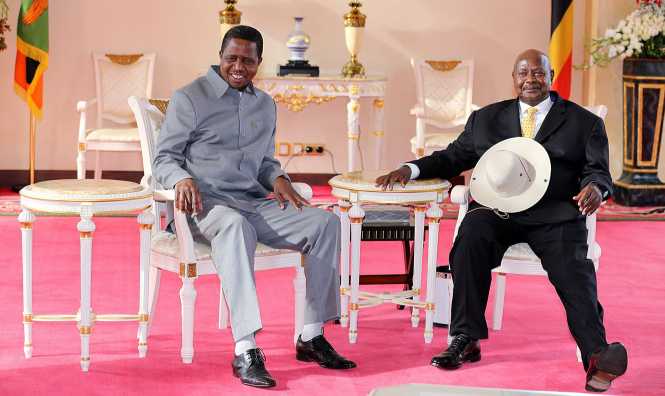 President of Uganda Yoweri Museveni has arrived in Zambia to grace Zambia's independence celebrations tomorrow.
The plane carrying Mr. Museveni touched down Kenneth Kaunda International Airport at 16:45 hours local time.
President Museveni was welcomed at the airport by President Lungu,  some Cabinet Ministers, Minister for State for Foreign Affairs Okello Oryemu, Ugandan High Commissioner to Tanzania and Zambia Dorothy Hyuha and his Zambian counterpart,  Judith Kapijipanga, defence chiefs, senior Zambian and Ugandan government and ruling PF officials as well as patriotic Zambians and Ugandan nationals.
And speaking to journalists shortly after arrival, the visiting President said the decision by South Africa to leave the International Criminal Court (ICC) is very good.
"It is a very good decision that South Africa has done that. In fact, it is (the ICC) very useless," he said.
On bilateral relations between Uganda and Zambia, Mr Museveni said they are cordial for the benefit of the peoples of the two countries.
He also commended the people of Zambia for re-electing President Edgar Lungu.
Meanwhile, Mr Museveni was greeted to a thunderous welcome by both the military and cultural performances.
The Ugandan leader was accorded a 21-gun salute mounted for him by the Zambia Army.
The PF women choir also sung solidarity songs while Nomakanjani dance troupe also danced to exhibit Zambia's rich cultural heritage.
The 2016 Independence Day celebrations theme is dubbed, "Consolidating our independence and national unity for a smart Zambia."