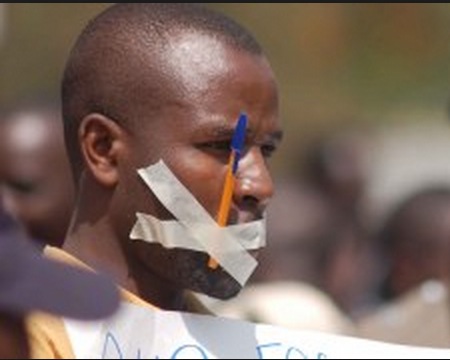 LUSAKA Zambia (Xinhua) — A consortium of civil society organizations working on human rights and fundamental freedoms on Thursday urged authorities in Zambia to stop the continued "persecution of the media."
In a letter of appeal sent to President Edgar Lungu, the organizations said "it seems there was a systematic ploy to silence the media and drift the country into a One Party State."
The organizations expressed concern over recent happenings where the police seem to be used to stifle the freedom of the media.
Arah Longwe, chairperson of the Non-Governmental Organizations Coordinating Council (NGOCC), who read out the letter during a press briefing, said the organizations wanted the Zambian leader to categorically state his position on the matter.
"Because of the situation obtaining in the country with regard to the stifling of the press, we, as a consortium of civil society organizations, have written a strong letter of appeal to President Edgar Lungu to immediately act and bring persecution to an end," Longwe said.
The organizations are concerned that the police have become the regulators of the media, Longwe added.
There have been increased concerns over the stifling of press freedom since the closure of the country's largest independent newspaper, the Post, in June this year by the country's revenue collection agency over unpaid taxes.
Although the paper is being printed at a secret location, its main offices have remained closed and being guarded by the police.
In August, the country's broadcasting regulator, the Independent Broadcasting Authority (IBA), closed the main private television, Muvi Television, and two other radio stations over alleged unprofessional conduct before, during and after the general elections.
The licenses of the three broadcasters have since been restored.
(Xinhua)