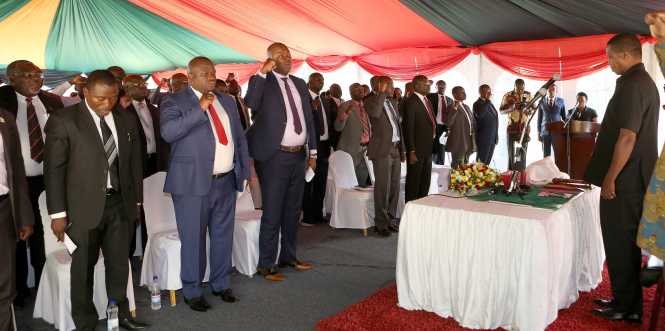 The United Progressive People's party (UPP) President Dr. Saviour Chishimba says he did not attend yesterday's inauguration of President Edgar Lungu and Vice President Inonge Wina in order to register his concern over the huge amount of public funds that the Government spent on the event.
Dr. Chishimba says yesterday's swearing in ceremony was the most glamorous, superfluous and costly since independence.
Dr. Chishimba says flat screen TVs were mounted across the country, jet fuel was purchased not to mention fuel for military trucks and GRZ vehicles, military hardware was also been moved to Heroes Stadium, battalions of Zambia Army, Zambia Police, Zambia National Service and Zambia Air Force were ferried at a great cost to simply go and march and fly past the president.
He says First Republican President Dr. Kenneth Kaunda never spent such amounts and President Chiluba was sworn-in at a simple one hour ceremony at the Supreme Court in 1991 and 1996.
He recalls that late Republican President Dr. Levy Mwanawasa was first sworn-in at the Supreme Court in 2001 and then at Parliament Buildings in 2006 and this became the smallest ceremony ever.
He furthermore recalls that President Rupiah Banda was sworn-in at Parliament Buildings in 2008 and late President Michael Sata equally refused to be sworn-in at the show grounds to reduce costs and he chose to be sworn-in at the Supreme Court.
Dr. Chishimba says to his dismay, the PF government, under President Edgar Lunga has since 2015 entertained wasteful and unjustifiable public expenditure on a simple exercise of taking the oath of office.
QFM