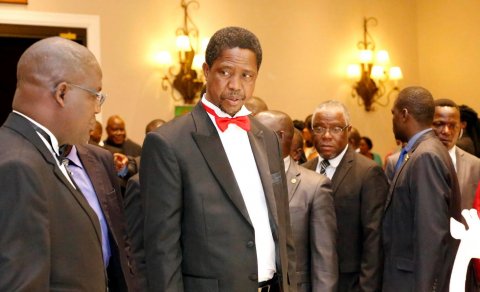 United Party for National Development (UPND) President Hakainde Hichilema has maintained that President elect Edgar Lungu should step down and allow the Speaker of the National Assembly to take over.
Speaking during a media briefing Sept 3rd afternoon, Mr. Hichilema says President Lungu should step down to allow the petition to be discharged in a fair manner.
He says by holding on to power, President Lungu is abrogating the constitution which he himself signed citing that the rule of law should apply to everybody.
And Mr. Hichilema has appealed to Zambians not to be divided by falsehood but take responsibility to keep the country together.
And speaking earlier, UPND Vice President for Administration Geoffrey Mwamba says all will be well and so the people of Zambia should stay calm.
Mr. Mwamba says this is the time that Zambians need to be united more than ever before.
And earlier MMD faction President Dr. Nevers Mumba says God is in control and will see the country through.
He has thanked the two UPND leaders for the fighting spirit they have put up during the petition period.
QFM