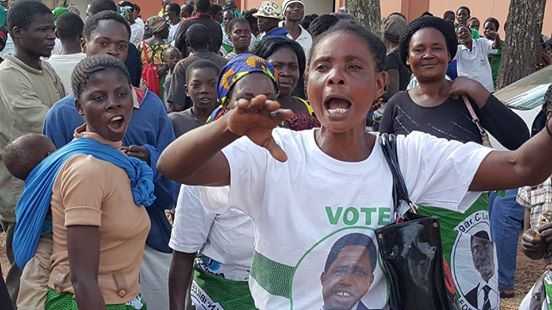 *"ConCourt Adjourns till Thursday"*.
Lusaka- Tuesday 30th August 2016
The Constitutional Court has reserved ruling regarding the application seeking amendments to the main Petition by lawyers for Hakainde Hichilema and his running mate Geoffrey Bwalya Mwamba.
Judge Ann Sitali stated that the ruling would be rendered on Thursday.
And.lawyers for President Edgar Lungu have objected to the proposed amendments.
Last week, the lawyers for Hakainde Hichilema suffered a major setback when the Constitutional Court struck off the record 52 witness statements and bundle of documents from the main Petition for irregularities and want of time.
Since then the the lawyers for Opposition leaders have sought amendments to their Petition to include grounds a recount of Lusaka Constituencies and Lundazi Central.
The lawyers also are seeking to include more witnesses to the case.
But lawyers for President Lungu have argued that if the amendments were allowed this would need to reply and this might fall outside the Constitutional stated time limit.
And the Court has directed that all outstanding matters be resolved or filed before Thursday as the Court has set Friday 2nd September 2016 as the commencement of trial.
Constitutional Court consist of six Judges:, Judge Hildah Chibomba as President of the Court and Judge Mugeni Mulenga, Judge Margaret
Munalula, Judge Anne Sitali, Judge Enock Mulembe and Judge Palan Mulonda.
PF