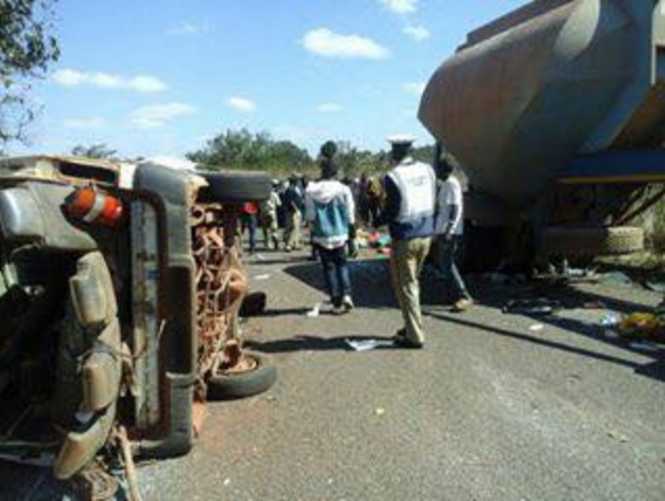 At least twelve people have died in a road traffic accident which happened around 12:50 hours on the Solwezi-Mutanda road near Mutanda Mission today (July 12, 2016).
Road Transport and Safety Agency Head of Public Relations Fredrick Mubanga says preliminary investigations conducted by the RTSA have revealed that the crash was caused due to a tyre burst and over speeding.
Mr Mubanga says the driver of the Toyota Hiace registration number ACT 1199,Simon Sinkamba failed to control the vehicle after a tyre burst and hit into the oncoming Iveco truck registration number AOB 230.
He says investigations have also revealed that the driver was driving at excessive speed, adding that the bus was overloaded hence exerting pressure on the tyres.
Mr Mubanga adds that the driver of the bus was pirating as the bus is not licensed to operate as a public service vehicle (PSV) and did not have the appropriate class of driver's license to carry passengers.
And Police deputy Spokesperson Rea Hamoonga says among those who have died are five females, six males and one juvenile.
Mr Hamoonga says three of the deceased have since been identified as Mervis Mwambi aged 43, Webby Diara 22, and a 22 year old male only identified as Mukuya.
He says the driver of the driver of the truck escaped unhurt while eight other victims are admitted to Solwezi General Hospital.
Mr Hamoonga adds that the driver of the minibus is among the dead.