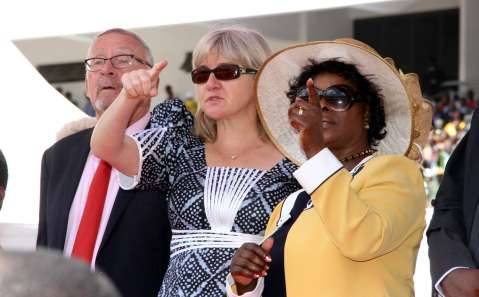 Five candidates have successfully filed in their nominations for the Lusaka central parliamentary seat among them three women.
The five are Margaret Mwanakatwe of the PF, Charlotte Scott of the UPND, Dorothy Mumba of the FDD, Kelvin Chilambe of the Rainbow patty and Kasonde Mwenda an independent candidate who struggled to find supporters.
Ms. Mwanakatwe expressed confidence of scooping the seat and pledged to be a servant of the people.
Dr. Scott pledged to build on what her husband who is the immediate past MP for Lusaka central had started.
She says she wants to improve the well being of the people of Lusaka central especially those in Bauleni.
Ms. Mumba says the country has a lot of resources which it can utilize in making the country a better place to live in.
And Mr. Chilambe says his focus would be on taking healthcare services as close as possible to the people of Lusaka Central.
QFM