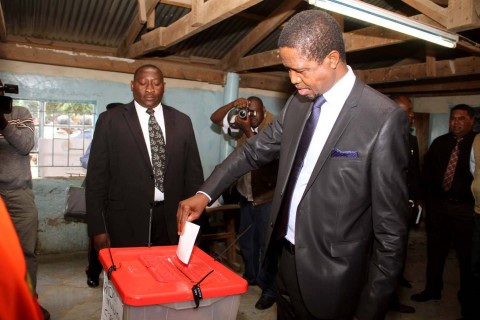 CARELESS and unguarded statements that Malawians and nationals of other countries have been registered to vote in the August general elections are alarming and can easily bring chaos in Zambia, Senior Chief Madzimawe has warned.
Senior Chief Madzimawe of the Chewa people in Eastern Province fears that the assertions that there were some Malawians who would be voting in the forthcoming general elections could bring confusion in Zambia and should, therefore, be thoroughly investigated.
The traditional leader said he was not aware of any Malawian in his chiefdom or in Eastern Province who had been registered by the Electoral Commission of Zambia (ECZ) and was, therefore, deeply concerned with the unverified reports that some Malawians would be voting in the August elections.
Chief Madzimawe said the ECZ had since the dawn of multi-party politics in Zambia conducted elections without any acrimony and accusations that some foreign nationals have been registered to vote were dangerous assertions, especially if they were unverified.
The traditional leader said in an interview that political players and media houses should restrain themselves from creating tension in the country by making wild claims that the general elections would be rigged.
He said Zambians and Malawians in border areas of Eastern Province had learnt to co-exist and that it was not uncommon for Malawian nationals to do their farming and sell agriculture produce to the Zambian Government and that the opposite was equally true.
Senior Chief Madzimawe said he had only learnt about speculations that some Malawians had registered as voters, but as far as he was concerned in his chiefdom such claims were unfounded and without basis.
"Let us not throw Zambia into chaos by making alarming statements that foreigners have been registered to vote in Zambia and that the general elections will be rigged. Political players and media houses must be cautious when making statements especially with the current political environment when Zambians are preparing to vote.  ''We should not be alarmed because Zambia can easily be plunged into chaos and we can only hope that Government is going to deal with such wild claims. Speaking for my chiefdom, there are no Malawians who have registered to vote," Senior Chief Madzimawe said.
He said if there were Malawians who had registered as voters in Zambia, Government wings could easily identify them and resolve the matter.
Chief Madzimawe said the world had become extremely sophisticated and that mercenaries of political instability could easily manufacture documents and purport that that they were from a governance institution such as ECZ.
He said while the amended Constitution provided for dual citizenship, Zambians had not been sensitised on whether people with dual citizenship could be allowed to vote or not.
"We have not been sensitised on the rights of Zambians with dual citizenship. What rights do they have or are they excluded from voting? Apart from the speculations about Malawians coming to vote, I am aware that my colleague Chief Chanje had a problem when Malawians were chasing Zambians farming in that country," Senior Chief Madzimawe said.
[Zambia Daily Nation ]