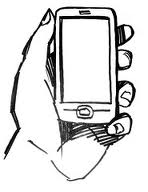 The Electoral Commission of Zambia has issued a directive banning the use of cellphones inside polling stations during the August 11 presidential, legislative and local elections, Voice of America reported.
Opposition parties, however, questioned the logic behind the directive, with member of parliament Request Muntanga, of the main opposition United Party for National Development, calling it "disturbing".
"I want to see where there is a regulation that says no cellphone (in polling stations) . . . The (electoral commission) is already creating uneasiness among players," Muntanga was quoted as saying.
According to a local publication Mwebantu, the Electoral Commission of Zambia (ECZ) said in a statement that it had in the past experienced some voters taking photographs of their marked ballot papers and showing how they had voted on social media. — News24.