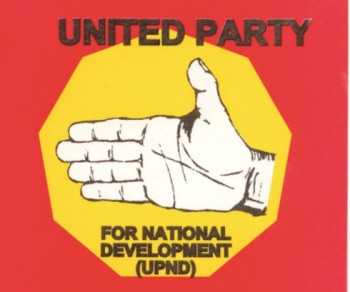 FDD Luapula Province chairman Joseph Malamba has joined UPND, citing lack of seriousness on the part of his party to form government this year.
And Malamba says it is low thinking for Edith Nawakwi to describe those joining other political parties as vultures.
In an interview in Lusaka, Malamba, who was in the company of other senior FDD officials from Luapula Province, said FDD was not ready to form government and help Zambians.
He said the future only belonged to those with a positive mindset and accused Nawakwi of being full of negativity.
"What has prompted me to join UPND is principle. At one time, there was a statement madam Edith Nawakwi had issued that HH is behaving like [he] is in government already and so my judgment is that the madam is not serious with forming government," Malamba said.
"In life and biblically, what you speak becomes your future. She talked in the negative; and if you are talking in the negative, you will harvest in the negative; but if you speak in the positive, you begin to harvest in the positive."
He said it was a positive sign for any opposition leader to behave like they were already in government.
"If a woman wants to go into marriage, she must behave like a married woman, then she is prepared to go into marriage. So, those are the things that have made us to leave FDD because she [Nawakwi] is not serious and as a party in Luapula, we are stagnant and in your paper the other day, she said all the defectors are vultures. The problem is she is just engulfed with political pomposity and at the same time with jealousy and hate," Malamba charged.
"Why is she failing to attract people to join her? It's because there is something wrong. So all these people that are coming to join UPND are not vultures and she can't sink so low to start naming other people vultures. They are going out of these political parties out of principle."
He said it was clear who would form government after the August 11 elections and that he could not afford to waste his energies on someone who was not ready to get into government.
"It is very clear that UPND is forming government. So why should I waste my energy and my brains with a person who is not ready to go into government? Madam Nawakwi is not ready to form government, so why should I waste time in her party?" asked Malamba.
"I am now informing the nation that I have left the FDD to join the United Party for National Development under the able leadership of president Hichilema, who is very ready and everyone can see that he is ready to form government and help the people of Zambia who are currently suffering at the hands of this cruel PF government."
The Post