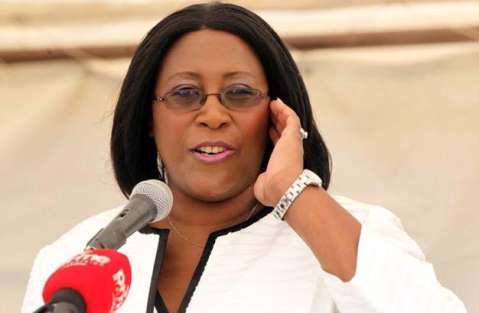 GOVERNMENT has apologised to the family of late President Michael Sata, his widow Christine Kaseba and son Mulenga over allegations attributed to Patriotic Front (PF) secretary general Mumbi Phiri that the former first lady and former Lusaka Province minister allegedly caused the death of the former president.
Chief Government spokesperson Chishimba Kambwili said insinuations allegedly made by Mrs Phiri that Dr Kaseba and Mulenga Sata connived to kill Mr Sata should not be taken as the position of Government or the PF but that the statement was a personal comment.
Mrs Phiri, who is PF deputy secretary general, is purportedly quoted in yesterday's Post newspaper as having allegedly told a group of women at a hair salon in Lusaka that Mulenga Sata and her stepmother had conspired to kill the late president who died in London in October, 2014 after an illness.
Mr Kambwili, who is Chief Government spokesperson, said Government had dissociated itself from Mrs Phiri's remarks and unreservedly apologised to Dr Kaseba and Mulenga Sata.
He said at a media briefing at his office yesterday that Government was ''sorry for the anguish and pain'' Mrs Phiri's alleged statement over the death of Mr Sata could have caused to the family and the former first lady in particular.
Mr Kambwili said Government and the PF held Dr Kaseba in high esteem not only as a wife to late president Sata but as a founding mother of the ruling party and could not, therefore, want to cause any form of pain or embarrassment to her.
"Government would want to disassociate itself from the comments attributed to Mumbi Phiri published in today's (yesterday) Post Newspaper in which she is insinuating that Dr Kaseba and Mulenga Sata could have killed late President Sata.
''The statement from Mrs Phiri is not the Government position but personal if she ever said those things. Government would, therefore, like to apologise to the family of late President Sata, Dr Kaseba and Mulenga Sata for the pain and anguish the statement could have caused," Mr Kambwili said.
He said Dr Kaseba, unlike Mulenga Sata, played a pivotal role in the formation of the PF and that no amount of innuendos would be able to dent her contribution and the relationship she was enjoying with Government.
Mr Kambwili said it was unfortunate that such a statement could have been made by Mrs Phiri who is PF deputy secretary general.
And Mr Kambwili said it was not appropriate for the PF to continue attacking Mulenga Sata despite the former State House minister not having participated in the formation of the ruling party.
He said the PF wished Mulenga Sata well in his new political career and revealed that there were only three surviving founder members of the PF including President Edgar Lungu, a Mr Kajiya and Mr Kambwili himself.
Mr Kambwili said as a dedicated member of the PF, he would never leave the ruling party and that assertions that he was about to defect to the UPND were unfounded and without basis.
Zambia Daily Nation