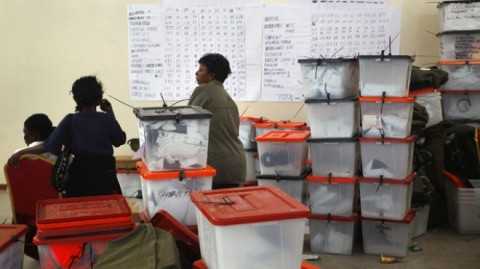 Ikeleng'i residents in North Western province have stormed the District Commissioners office demanding the removal of Mwinilunga residents allegedly handpicked by the Provincial Local Government Office to run the August 11 elections in Ikeleng'i as Assistant Returning Officers.
The Protesting residents are not happy with the move to replace returning officers based in Ikeleng'i with Mwinilunga residents.
They argued that Ikeleng'i has several local people with necessary experience to work as returning officers and that there is no justification to bring officers from another district to preside over elections in Ikeleng'i.
The people have been angered by reports that Ikeleng'i residents that were earlier selected to represent the district as returning officers were recently turned away at a workshop for electoral officers in Solwezi.
But in a telephone interview, Provincial Local Government Officer Nickson Nkwapu, refuted claims that he personally handpicked Mwinilunga residents to take over the role of returning officers in Ikeleng'i district.
Mr. Nkwapu said the selection of returning officers is the sole responsibility of the Council Secretary who is the District Electoral Officer.
He explained that the newly appointed returning officer for Ikeleng'i is a local person who will be deputised by two people from outside the district due to their vast experience in elections and do not need any training.
However, the people in the district have vowed that they will not allow any officers from another district to preside over elections in Ikeleng'i.
And Ikeleng'i district commissioner Victor Kayekesi appealed for calm and assured the aggrieved residents that the matter will receive active attention.