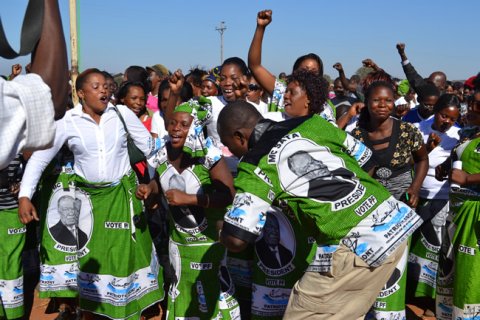 SENIOR Patriotic Front (PF) members defecting to the UPND are betraying the vision and people who supported President Michael Sata who did not want to form an alliance with the opposition political party, former Democratic Front (DF) publicity and information secretary Mubanga Chileshe has charged.
He said the people defecting were selfish and doing so to achieve personal benefit rather than serving the interest of the people that Presidåent Sata represented.
Mr Chileshe said the PF had been cleansed of all the mischievous members who he claimed had regrouped in the UPND and it was virtually impossible for Zambians to vote for a party that had no respect for the people it desired to govern.
He said the DF members were shocked when Mr Miles Sampa took the party to the UPND without consulting the membership.
"The UPND is like a stream of clean water that has suddenly been contaminated by the effluence from a burst sewer pipe. Dr Guy Scott and the likes of Miles Sampa, Obvious Mwaliteta among others are bitter because their scheme to stop President Lungu from ascending to the presidency collapsed.
"It is not out of ideological anger that they left but because of the hatred they habour against President Lungu. My advice is that let them accept that President Lungu will be there for the next five years and they will continue chocking with envy," Mr Chileshe said.
He said UPND should consider the option of boycotting the August 11th general elections if they had no confidence in the Electoral Commission of Zambia (ECZ), Mr Chileshe said the ECZ had remained one of the most credible electoral body in the world having presided over six elections which the international observer community had described as free, fair, transparent and credible.
Mr Chileshe said the attacks against the electoral body by the UPND were unjustified and unwarranted because it was the mandate of the commission to determine which company in the world could print the county's key voting materials.
He said in an interview that the August 11th general elections were not about the UPND but for Zambians to choose a President to govern the country for the next five years. Mr Chileshe said the UPND claims that the general elections would be manipulated in favour of President Lungu were only meant to psych their general membership to refuse to accept the outcome of the elections and cause chaos in the country. He said in 1996 UNIP boycotted the elections and that if the UPND did not have confidence in the ECZ, they had the option to boycott the general elections because other political parties were ready and willing to participate in the elections.
Mr Chileshe said the opposition had realised that their chances of ever defeating President Edgar Lungu had been diminished by the achievements the Head of State had scored in just about one year in State House.
Zambia Daily Nation