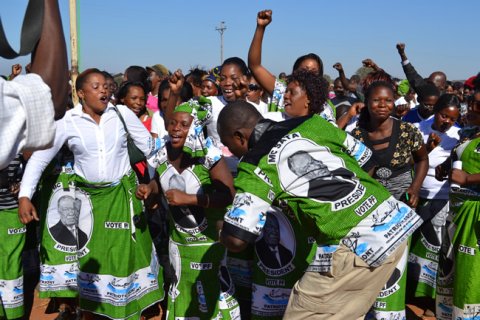 CHIPATA-BASED Post correspondent Peter Sukwa on Tuesday broke down in court while narrating how PF cadres urinated in his mouth and attempted to burn him alive.
Sukwa was testifying in a case where PF Vubwi district chairperson Michael Tembo is charged with two counts of assaulting him and his colleague Kelvin Phiri from Feel Free FM Radio when they went to Chikoka area to verify reports that PF cadres were aiding Malawians to get Zambian NRCs and voters cards.
Appearing before Vubwi magistrate Moses Phiri, the two journalists told the court that PF cadres, led by Tembo and Petauke district youth chairperson Jay Banda wanted to burn them alive with petrol but that they failed to find match sticks.
In his testimony, Sukwa explained that when he received a tip from an unknown caller that Malawians were getting Zambian NRCs and voters' cards in Chikoka area, he and his colleague booked a taxi and went to the area to verify the reports.
He told the court that they disembarked from the taxi about 400 metres away from a school that was used as a registration centre for NRCs and voters' cards and interviewed people who were getting documents.
"Most of the people who were getting the documents confirmed that they were Malawians and even their Chewa was that of Malawian accent," Sukwa narrated.
"After I verified the reports, I went closer. I saw PF cadres giving out bread and drinks to Malawians and other people who were being registered and getting voters' cards. There was scramble for bread and drinks. Then I started taking pictures and a young man whom I later came to know as Jay Jay Banda grabbed my camera and started asking me questions; who I was, where I was coming from and who had sent me there.
After I responded to Jay's questions, Tembo, who identified himself as a commander, asked similar questions. But I told them who I was and my mission there. It was at that point that Jay started beating me, he slapped me heavily on my right ear and I stopped hearing. Tembo punched me on the right side of my chest."
He said later, Tembo held his legs while Jay held his hands and they both threw him on rocky ground.
The Post