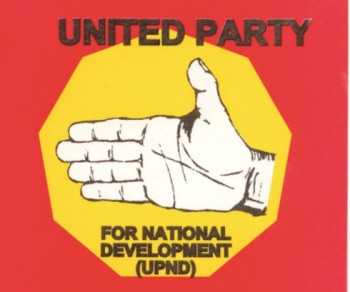 SPEAKER of the National Assembly Dr Patrick Matibini yesterday chased Kalomo Central UPND member of Parliament Request Muntanga out of the House for accusing the Speaker of debating on behalf of Home Affairs Minister Davis Mwila who had delivered a statement on the Bweengwa violence.
Mr Muntanga was ordered out after Dr Matibini heard him making running comments that the Speaker was defending the executive.
This was after Mr Mwila who is Home Affairs minister said the police would now start using "maximum force" on cadres who had the tendency of attacking them.
Mr Mwila told the House that the incident in Bweengwa where suspected UPND cadres ambushed and detained three police officers was the last one because they would now start using maximum force to protect themselves from being attacked by unruly cadres.
Mr Mwila's statement attracted the attention of Monze Central UPND member of Parliament Jack Mwiimbu who sought a clarification from the minister whether the declaration would not cause extra judicial killings like in other countries.
Mr Mwiimbu explained that according to his understanding of maximum force, it meant extra judicial killing.
But the Speaker intervened by explaining that maximum force was different from extra judicial killing.
Dr Matibini disputed that Mr Mwila's statement of maximum force was tantamount to extra judicial killing.
"The minister did not say that…. You have imputed the statement which he (Mwila) has not made," he said.
While the Speaker was clarifying the matter, Mr Muntanga was heard while looking at the Speaker, questioning who was debating between the Speaker and Mr Mwiimbu. It was at this point Dr Matibini ordered Mr Muntanga to leave the House.
"Honourable member of Kalomo can you leave the House," Dr Matibini said.
Despite the order, Mr Muntanga resisted prompting Patriotic Front members of Parliament to start calling for Parliament security to evict the Kalomo legislature from the House.
"Kalomo member of Parliament please leave this House. I am asking you to leave now otherwise there will be no further proceeding until you leave," the Speaker said.
Mr Muntanga then stood up and walked out of the House while retorting; "I will be back!".
The Speaker replied "tomorrow!"
After he left the House, the Speaker allowed Mr Mwiimbu to continue with his question.
Mr Mwiimbu wanted Mr Mwila to explain what he meant by applying maximum force.
In his response, Mr Mwila said his statement meant that the police would find means of protecting themselves from unruly cadres.
And delivering a ministerial statement on the politically motivated violence that took place in Bweengwa, Mr Mwila said the violence was instigated by misguided political activists.
Mr Mwila said the matter was currently under investigations.
He said Government was doing everything possible to ensure perpetrators of violence were brought to book.
"This kind of political violence witnessed in Bweengwa was uncalled for in a democratic country. It should accordingly be condemned by all well-meaning Zambians, because it has no place in a democratic society," he said.
Mr Mwila urged all political party leaders to ensure that all their members conducted their political activities peacefully.
He said the police shall deal very firmly with cases of political violence without fear or favour.
He said all political activists who used violence as a means of advancing their political goals must take it as timely warning, adding that Government would not condone political violence.
zambiadailynation