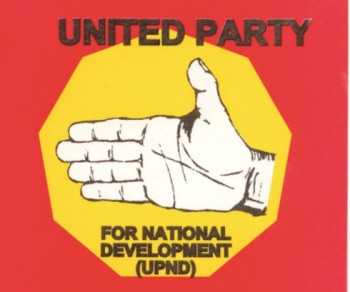 GOVERNMENT is disappointed and holds the opposition United Party for National Development (UPND) liable for the Bweengwa violence going by the statement attributed to party presidential advisor Douglas Syakalima who allegedly endorsed the violence.
Chief Government spokesperson, Chishimba Kambwili said Mr Syakalima's statement is irresponsible and confirms the purported UPND violent agenda in its selfish political ambitions.
"Mr Syakalima's statement is irresponsible and once again, confirms the UPND's violent agenda in its selfish political ambitions.
Contrary to Mr Syakalima's assertions, Government has consistently condemned violence regardless of who was behind it," Mr Kambwili said.`
Mr Syakalima was quoted in yesterday's edition of the Post Newspaper, as having endorsed the violence which happened in Bweengwa Constituency on Saturday, where a convoy of Government vehicles and officers, including Zambia News and Information Services (ZANIS) crew, was attacked and held captive by suspected UPND members.
Mr Kambwili who is also Information and Broadcasting Services Minister, said in a statement yesterday that the behaviour was criminal, barbaric and incompatible with the country's democratic dispensation, which espouses unity and co-existence in diversity.
He said the behaviour was shameful and unacceptable, and should be condemned with the contempt it deserves because the country has enjoyed peace for more than 50 years, which could not be sacrificed by some disgruntled and misguided individuals in the country.
He said Zambians had not forgotten the violence and brutality allegedly perpetrated by the UPND on innocent people during the Mapatizya Parliamentary by-election in Kalomo in Southern Province some years ago, where the so called 'Mapatizya formula' was coined.
"Let it be known that the UPND does not own Southern Province and also that Zambia is a unitary State and all those who believe that the opposition party owns the province are trading on dangerous ground for they risk committing a felony," he said.
Mr Kambwili said every citizen was entitled to a free and peaceful atmosphere to go about their business as guaranteed in the Republican Constitution and that nobody had the right to disrupt them.
Mr Kambwili said political parties who believe in violence should be rejected, adding that perpetrators of the violence in Bweengwa would not escape the law.
He called on Zambians to expose and shame people who were perpetrating political violence ahead of the August 11, 2016 elections.
"It ought to be stressed that competition for political office should be on merit, issue-based and not through violence, tribalism, regionalism or any other such considerations," he said.
Meanwhile, the Zambia Union of Financial Institutions and Allied workers (ZUFIAW) has joined many other stakeholders in condemning the Bweengwa violence.
ZUFIAW General Secretary Chingati Msiska said in a separate statement that the peace Zambia was enjoying should not be taken for granted and that any violent behaviour was working against those who fought for the country's Independence.
"This country belongs to every Zambian and each individual must be free to travel to any place of their choice and express their views freely. If you disagree with someone on issues such as political affiliation, you should find a mature way to dialogue, "he said.
He observed that the violence in Bweengwa was a serious risk to national security and the Southern African region and has urged politicians to take lead in fostering peace and unity.
Mr Chingati called on the police to investigate thoroughly and arrest culprits responsible for the violence that erupted in Bweengwa at the weekend.
TimesofZambia