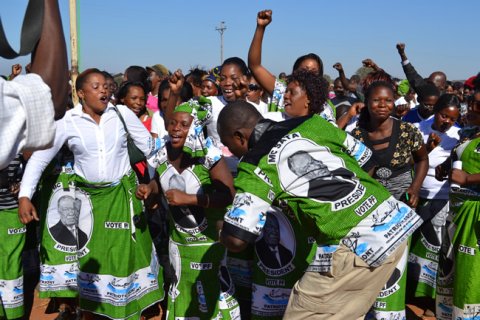 THE Democratic Front Party (DFP), a Patriotic Front (PF) splinter group formed by some disgruntled senior members of the ruling party, has been registered with the Registrar of Societies.
Registrar of Societies Chief Registrar Thandiwe Phiri-Mhende has confirmed that the political party has been registered but could not give the details of the founders of the party.
Mrs Mhende said she could not release the details of the founders of the DFP unless there was a formal request for an official search of the records at the Registrar of Societies office.
"The Democratic Front Party is registered but I am afraid I am unable to release the details of the party without a formal request for the search," Mrs Mhende said.
The party has been formed by some of the PF members of central committee who contested the ruling party's presidency at its last emergency national congress following the death of President Michael Sata in October 2014 and could be launched this week.
Forms and other stationery for the new party have been distributed in Northern Province where alternative structures have been established.
The disgruntled PF members of central committee have regrouped with the hope of contesting this year's Presidential and general elections with the intention of undermining and weakening the PF to make it impossible for the ruling party to garner the required 50 per cent plus 1 vote.
The group hopes to play "king maker" with an opposition party and therefore gain power through a political alliance.
But Bahati PF member of Parliament Harry Kalaba has said the ruling party was safer with President Edgar Lungu winning the August general elections and the ruling party could therefore not afford to open old wounds that almost cost the party its mandate to govern last year
Mr Kalaba said President Lungu had demonstrated exceptional leadership qualities in his style of governance and it was important that PF officials with ambitions consider shelving their desires so that the ruling party remained peaceful and united in readiness for the general elections.
He told the Daily Nation that President Lungu had managed to calm the intra-party political storm and that the ruling party had found peace.
"As PF, we need to support President Lungu because we are safer with him in winning the general elections this year. This is not the time to open up old wounds but time to hold ourselves as one," Mr Kalaba said.
zambiadailynation