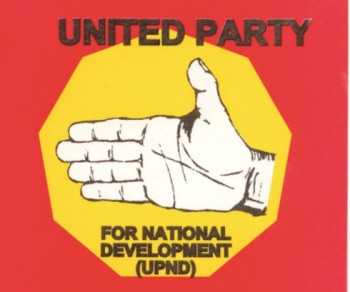 The problem we now have in our politics is that people what to prove a point to others. Once you start doing that just know that that is the beginning of the end for you. You are what you are no matter how you try to cover it up. Regardless what you cover a book with-plastic, paper or a piece of cloth it remains a book.
The greatest mistake you can also make is by using old, out of touch and Malabo(dumpsite) material to cover your book. The action will just show how desperate or fake you are. This in turn will make everyone to start questioning your seriousness in what you do.Politicians, political organisations and everyone who supports this type of actions is as dead as the party they support. It is as simple as that.
Everyone knows what type of political party United Party for National Development(UPND) is. No matter who they bring in the party it will not remove the tag they have. The most shocking thing is that they are now going to the Political Chishala(dumb site) to pick whoever they can. What happened to grooming and motivating the leaders of tomorrow if all UPND does is bring on board the likes of William Banda, Daniel Munkombwe, Vernon Mwaanga, Lupando Mwape and Bob Sichinga, Yes we need experienced politicians but not Malabo politicians.
What will Lupando Mwape bring to contemporary politics? Nothing if you ask me. As the incumbent Vice President of Zambia and outgoing MP Ba Lupando lost his Lukashya seat yet UPND think they have caught a big fish. The man has no following. The only thing I remember about our former Veep is the singing during the Ngoma Awards some years ago. He sang a song for every award he handed out to the winners. Unless you tell me UPND are looking for a composer then the man can help them.
For me Lupando, Charity Banda, VJ, uncle Wille and Banshi Nono have nothing to offer. What following do they have. I don't think even their relatives would vote for them.
Political leader and political organisations should bring on board people who will add value to the party not just because you want to remove your tag or because you want to add numbers in/or to your party. Recruit people who will help you win elections not lose them.
UPND and Hakainde Hichilema(HH) don't learn. Last year in the run to the Presidential by Elections they thought they caught what they termed as a big fish in the name of Munkombwe. Only to be de-campaigned in Choma when he made the "Its Time for a Tonga" statement. Grandpa Danny made that statement because he has lost a lot of touch in ultramodern politics. In contemporary political relations what you say and do will determine what you achieve.
In my opinion UPND Doba Doba politics will not accomplish anything. They have a lot of young people who are full of energy and ideas. These young people should be groomed because they are not only the future but also people who will help shape our democratic process. To UPND young people. Instead of standing up so that you can be counted by adding value to your party you just support mungulu mungulu. Zambia Foward, Zambia Forward….Yet you are being flooded with finished Milamba(Bubble fish). Naimwe ati big fish. Wait until Lupando Mwape is appointed UPND National Youth Chairman then you will understand what I mean.
Being a Doba Doba party will not help win UPND elections. Once a party starts to behave like that(kudoba doba) just know that it has became a Recycle Bin.
You even hold a press conference to welcome Lupando Mwape, Charity Banda and Banshi Nono. LOL. Can't wait for August. Bring it on.
By Joe Mwansa Lombe Kaluba