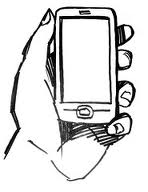 A LUSAKA man yesterday pleaded not guilty to being in possession of obscene material. It is alleged that Kachamba Peter Ndasa, 27 of Woodlands area, a data entry specialist of an undisclosed institution, on November 18, 2015, in Lusaka, had in his possession photographs tending to corrupt morals. Appearing before magistrate Faides Hamaundu, Ndasa said he understood the charge but denied committing the offence.
A police report filed in court revealed that Ndasa was found in possession of two mobile phones, a Samsung and Huawei, whose memory cards contained pornographic material.
The two mobile phones and memory cards were, according to the report, taken to Zambia Information and Communications Technology Authority (ZICTA) to determine what information was in the gadgets. It was established that a memory card serial number 867066028736004 in the Huawei mobile phone contained pornographic material. And after taking plea, Ndasa, who has been in police custody, applied for bail, which was granted. Magistrate Hamaundu granted Ndasa a K5,000 bail in his own recognisance with two working sureties in the like sum. But by press time, Ndasa had not yet met bail conditions. The matter was adjourned to January 23 for trial.