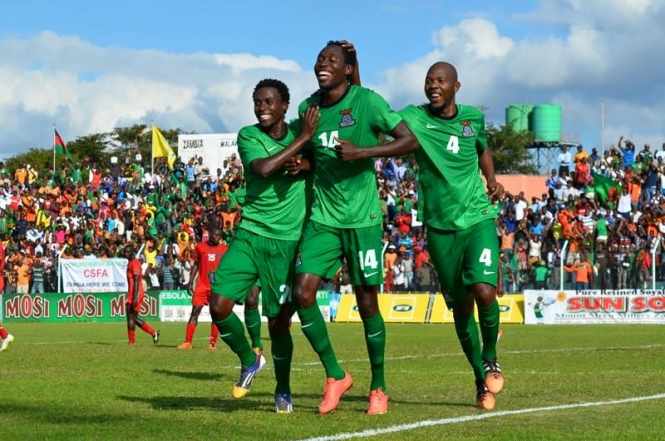 Latest Fifa/Caf rankings released on Thursday, January 7th 2016,has seen Zambia move-up six(6) places on FIFA, from 73rd to 67th,while slightly climbing two(2) places,from 17th  to 15th position in Africa.
2015 Orange Afcon champions Ivory Coast(19th on Fifa) have maintained the top spot in Africa,ahead of Algeria(28th on Fifa) and Ghana(33rd on Fifa),while Cape Verde(39th on Fifa) has stood strong as the fourth(4th) best ranked team in Africa,ahead of Tunisia,Senegal,Congo Brazzaville,Guinea,Cameroon and Egypt.
Zambia's opponents in the upcoming Africa Nations Championship(CHAN),Uganda have continued to record milestone achievements representing East-Africa,this time attaining the best ever Fifa Ranking at 62nd position while gaining grip in Africa on 12th spot.
Uganda,fresh from winning the 2015CECAFA Senior Challenge Cup will be a team to look out for, at CHAN. Tournament in Rwanda,alongside Mali who sit 13th in Africa,while another Zambia's opponent Zimbabwe were surprizingly ranked 31st in Africa,in yesterday's release.
In World Fifa Rankings,Belgium are still the best ranked team,ahead of Argentina,Spain,Germany,Chile,Brazil,Portugal,Colombia,England and Austria, in the top ten(10) bracket;while Uruguay sit 11th ahead of Switzerland,Ecuador,Netherlands,Italy,Romania,Wales,Croatia,Ivory Coast and Hungary on 20th position.
The next release of Fifa/Caf Rankings will be on February 4th,2016.
Below is the Top 30 Fifa Ranking(African Zone):
1. Ivory Coast(19th on Fifa).
2. Algeria (28th).
3. Ghana (33rd).
4. Cape Verde (39th).
5. Tunisia (40th).
6. Senegal (45th).
7. Congo Brazzaville (48th).
8. Guinea (49th).
9. Cameroon ( 57th).
10. Egypt (58th).
11. Congo DR (60th).
12. Uganda (62nd).
13. Mali (63rd).
14. Nigeria (66th).
15. Zambia (67th).
16. Equitorial Guinea (69th).
17. South Africa (74th).
18. Morocco (76th).
19. Gabon (77th).
20. Benin (78th).
21. Libya (81st).
22. Burkina Faso (89th).
23. Rwanda (91st).
24. Togo (93rd).
25. Botswana (95th).
26. Kenya (101st).
27. Niger (103rd).
28. Liberia (103rd).
29. Angola (105th).
30. Malawi (106th).