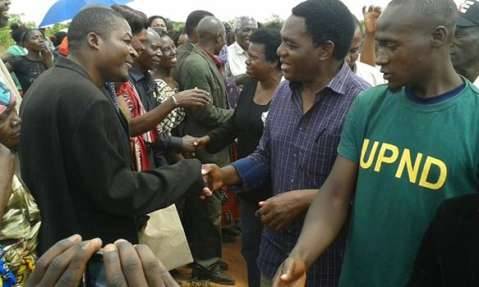 Most African Countries have passed the 50 year mark after their independence. Many political, economic and social commentators have alluded to the fact that Africa now needs to look at how to seek that economic and social independence. I agree with this assertion 100%, but I think we still have more to do than we as Africans think.
The first thing we need to know or do is understand how we can work together as brothers and sisters regardless of background, race, tribe, status or political affiliation. Other countries around the world make it because they put their political difference aside. What comes first is the people of a given country. Although we need to set the pace of our music. I think it is important to learn from others.
In many countries like our nation Zambia. Political leaders use emotions which are driven by hate, envy and selfishness. What comes first for some is the I and not others. Leadership is about people and we have only one country with one citizenry. These citizens are looking for leadership from each and every person in position and all those seeking it.
It is that element of looking for leadership that makes people to start buying into our ideologies and politics. This is not only for those in government but also for those in opposition. The biggest problem I see is that people in opposition parties are just there to cause divisions and make a country hard to govern. Africa is not developed partly because we don't have that political coexistence. Even when the ruling party offers to work with other them, opposition political parties always see it as a loss for them and not a gain for the country. This we have seen in Zambia too. It is not everyone though. Some opposition leaders have been very good at reading our political and democratic process.
Despite being in opposition or not agreeing with whatever the Patriotic Front government is doing. Some political leaders have given support on or in issues and things that go beyond politics. I can point out Dr Nevers Sekwila Mumba of the Movement for Multiparty Democracy(MMD). The opposition leader has had his own issues with his party in the past one year or so. But I have seen that Dr Mumba is growing in his political maturity. He has been in government as Vice President before where he was head of government business in Parliament. He has represented Zambia as High Commissioner in Canada. So I think these credentials have helped him understand that there are things which you can oppose and others which you just move with the people.
I saw Mumba at the day of prayer and reconciliation last October. I saw him embrace the man who probably costed him many votes-former President Rupiah Banda. I saw him speak with a lot of political and religious leaders. People called the day of prayer a political platform for President Lungu. Mumba did not see that. He saw a platform where misunderstandings and disagreements between many intra or inter party individuals and groups can be buried. If not to call that political maturity then I don't know what to call it. People like Hakainde Hichilema politicised the event but Mumba joined other Zambians in prayer.
I saw Sekwila at the the signing of
constitution bill by the President this week. HH and UPND claim to be the biggest opposition party in Zambia. A big opposition which can not even attend a function which has in my opinion opened a new page for our democratic consolidation. A new page which will change our political landscape. And the biggest opposition party missed it. LOL What a joke.
Sometime HH should sit down and evaluate his actions. He has to look at those around him. Are they giving him enough or good counsel. This is important in politics. HH has to take a leaf from the conduct of other opposition leaders. Dr Mumba is one example. On this one I think Ba Mumba is seeking good counsel from himself and those around him. He does not agree with all the programmes of the government. Yet he can distinguish between a political issue which require opposing and a national issue which require supporting and attending. That again is what I call maturity.
I may not agree with some of his approaches. But again I will give kudos to Dr Mumba and the MMD including other political parties for doing the right thing on this one. If UPND and HH think they are the smart ones they will realise that people are smarter than they are. They have to move with the wind. Boycotting events like the signing of the constitution bill just shows how bitter HH and his party are. Now that this year's elections will be held under the new constitution I want to see if they will boycott too. Let us see how consistent they are. People will defend HH as much as they want. For me on this one: It is a goaaaalllll! Ooops! Sorry it's another own goal.
I have said many times that you don't need to be in government for you to add value to a nation. What you ought to do is to be there when your country needs you. Dr Mumba as one of the leading opposition leaders taught us something. We may disagree on some issues but that does not mean we can not support matters which are important for our people.
Leaders must lead and emotions must not be allowed to win otherwise we are doomed. We only have one Zambia. We can only develop if we put our misunderstandings aside and unite on matters which seek to unite our people. As leader we should know that we are examples to many. The question is what example are you?
By Joe Mwansa Lombe Kaluba